A Toast to the Future
December Convocation

12/10/2007

ESF celebrated December Convocation as 129 students moved on to a new chapter in their lives.
"We're here to celebrate the success of our students and to toast the next stage of their lives," said Cornelius B. Murphy, Jr., SUNY-ESF president, at the opening of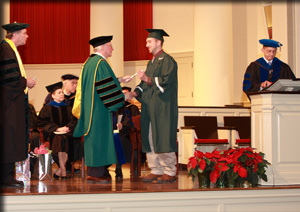 Convocation ceremonies Dec. 7. The College awarded 129 degrees, including 13 Doctors of Philosophy, during the ceremony.
Murphy spoke of the interconnectivity of global environmental systems and the consequences of uncontrolled economic growth and industrialization. He challenged the graduates to tackle the tough environmental issues the world is and will be facing.
"We turn to our graduates for solutions and to catalyze a green industrial revolution," he said.
ESF honored three alumni during Convocation: Dr. Edwin Ketchledge, Dr. Ronald Eby and Dr. Mary E. Fowkes.
Ketchledge '49 received the ESF Lifetime Achievement Award. During his tenure, Ketchledge was a beloved mentor, advisor and role model to ESF students. He focused his career and retirement on protecting the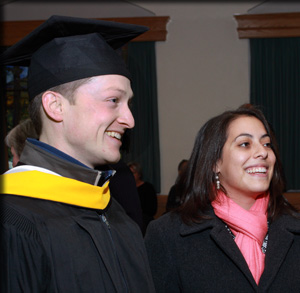 Adirondack high country, including starting a citizen-driven Summit Stewardship program to protect the High Peaks.
Eby, '69, '72, '74, and Fowkes '77 received the Alumni of Distinction Award.
Eby, this past summer, received the National Medal of Technology for his work developing the vaccine Prevnar, which has reduced by up to 75 percent the number of ear infections and cases of pediatric pneumonia and meningitis caused by the Streptococcus pneumoniae bacteria.
Quoting Roman philosopher Seneca, Eby said, "'Luck happens when you have preparation followed by opportunity.' Graduates, you've had the preparation. I wish you the luck in finding the opportunity to use your skills."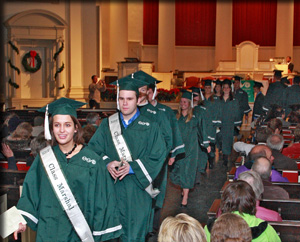 Fowkes, who has distinguished herself as a medical examiner for the City of New York and advised U.S. Sen. Hillary Rodham Clinton on medical issues, urged the graduates to use what they learned at ESF to make great discoveries.
Bringing the formal ceremony to a close, Provost Bruce Bongarten told the graduates, "Never forget how proud ESF is of you and the faith we have in you to make the world a better place."
Following the ceremony in Hendrick's Chapel, the celebration moved to Alumni Lounge in Marshall Hall, where students shared their accomplishments with family, friends, faculty and staff.
Derek Earl Pursell looked every bit the ESF student, wearing a black Jansport backpack — complete with a wide-mouth, reusable water bottle stuck in a side pocket — over his green academic gown as he chatted with his family during the reception. He earned a bachelor's degree in natural resources management.
He is investigating the job market and considering a stint in the Peace Corps.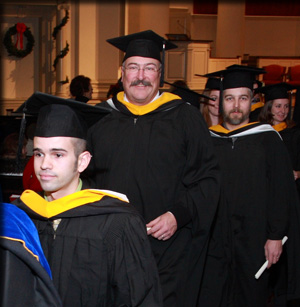 "One of the best things about ESF is you can get a quality education at a very reasonable cost," he said. "I'll be graduating without debt. And the quality of the education is very good."
Originally from Pennsylvania, Pursell relocated to the Syracuse area with his family four years ago.
Emily Gates of Mechanicsburg, Pa., was happy about completing her bachelor's degree in environmental studies/communication and culture, an area that allowed her to combine her interest in communications and science.
"It suddenly seemed real during rehearsal. It wasn't until then that I realized, 'This is it'" she said. "It's rewarding. I'm looking forward to the next step. You get to a certain point and you think it's all over. But it isn't. It keeps changing. You go on to new challenges."
Recent ESF News
News Archives
Communications & Marketing
SUNY-ESF
122 Bray Hall
1 Forestry Drive
Syracuse, NY 13210
315-470-6644