SHARE:
ESF Men's Soccer Team Wins Club Title
Penalty kicks clinched the victory for ESF in an upset win over Cornell

11/4/2008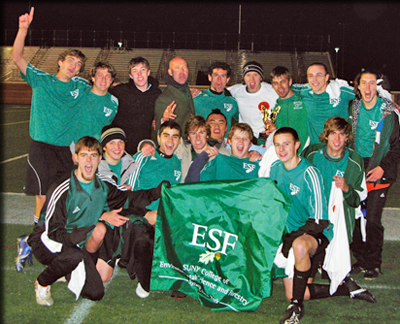 The SUNY-ESF men's soccer team won the Men's Collegiate Club Soccer Playoffs Nov. 1 with a dramatic win in penalty kicks over Cornell University.
The fourth-seeded ESF team worked its way into the tournament finals with a 2-1 upset win over SUNY Cortland, which shared the regular-season league championship with Cornell. Senior Nick Herrera-Cave scored both goals for ESF in that game.
Facing unbeaten Cornell in the final, ESF's high-pressure offense did not connect until the final two minutes of the match, when freshman Kevan Busa served a cross to diving sophomore Colin Hoffman, who headed the ball into the goal to tie the game.
The tie held through overtime, setting up a shootout to determine the winner. Herrera-Cave, Busa, freshman Steven Tyrrell and sophomore Gaelin Walsh scored on their shots. Goalkeeper Mike Schiever-O'Brien, a sophomore, limited Cornell to three successful shots, and ESF wrapped it up with a 4-3 win.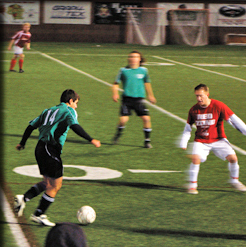 The Collegiate Club Soccer League currently includes six upstate New York teams sponsored by Cornell University, SUNY Cortland, SUNY-ESF, Ithaca College, SUNY Oswego, and Syracuse University. The SUNY-ESF men's soccer program is in the early stages of development and recruitment, with a goal of moving to a higher level of intercollegiate competition in 2009 or 2010. Their 2008 schedule also included matches with the Elmira College soccer club and with intercollegiate soccer teams from Paul Smith's College and Jefferson Community College.
Recent ESF News
News Archives
Communications & Marketing
SUNY-ESF
122 Bray Hall
1 Forestry Drive
Syracuse, NY 13210
315-470-6644