SHARE:
Spring Break Means Community Service for ESF Students
Katrina vicims still rebuilding

3/9/2012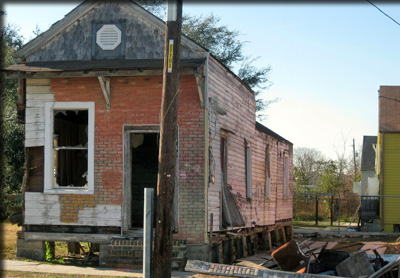 It is a longstanding tradition for college students on spring break to head for the Sunbelt to relax on a beach in Florida or South Padre Island or even enjoy the music and food in a place like New Orleans.
However, 25 SUNY-College of Environmental Science and Forestry (ESF) students and three alumni will spend only one afternoon touring New Orleans over spring break and devote the rest of the week to helping victims of Hurricane Katrina build and repair homes in Chalmette, Louisiana. They will also plant trees and help clean up a couple of neighborhoods.
A total of 60 people will make the trip starting Saturday, March 10th. In addition to ESF, the contingent includes representatives of Syracuse University and SUNY Oswego. The trip is organized through Operation Southern Comfort, a volunteer group that has been helping the Katrina victims for several years. This will be Operation Southern Comfort's 39th trip to the New Orleans area.
The ESF Alumni Association donated $500 to help pay the students' expenses on the trip down and back as well as an educational bus tour around St. Bernard Parish, one of the area's hardest hit by the hurricane. ESF students also organized a benefit concert at Funk 'N Waffles to sponsor a project for a homeowner in the region.
Last year, 45 ESF students made the trip. They worked at 10 sites putting up siding, walls and doors, painting, cleaning and installing floors. Working with a retired forestry professor from Louisiana State University, Dr. Rich Goyer, the students potted 1,400 trees, planted 15 trees and started new trees with acorns. The trees are grown in the pots for about a year so the root system is well developed and then they are transplanted to the levees where they will help mitigate damage from future storms.
Overall, the students worked a total of 1,800 hours.
Video from the 2011 trip is available at:
http://www.esf.edu/communications/view.asp?newsID=381
Recent ESF News
News Archives
Communications & Marketing
SUNY-ESF
122 Bray Hall
1 Forestry Drive
Syracuse, NY 13210
315-470-6644