SHARE:
ESF Basketball Team Begins First Season of Varsity Play
Mighty Oaks graduate from club status to intercollegiate team

10/23/2012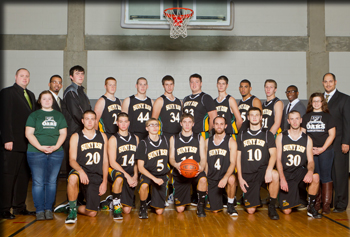 ESF will kick off its first season of intecollegiate varsity basketball Nov. 3 at Broome Community College.
Captains Josh Puzan, a senior aquatics and fisheries major from Youngstown; Zach Kalette a senoir landscape architecture major from Fayetteville; and Andrew LaPolt, a junior environmental resources engineering major from Gloversville, lead the team. Six players return from last year's club team.
The Mighty Oaks first home game will be at noon Nov. 10 at Christian Brothers Academy in Syracuse against the Albany College of Pharmacy. Admission is free.
The basketball program is the latest developement in ESF's growing athletics program. The college now offers students the ability to participate in soccer, cross country and golf in addition to men's basketball.
Recent ESF News
News Archives
Communications & Marketing
SUNY-ESF
122 Bray Hall
1 Forestry Drive
Syracuse, NY 13210
315-470-6644