SHARE:
Five Students Chosen for Fink Fellowships
Five students benefit from career-focused program

10/31/2013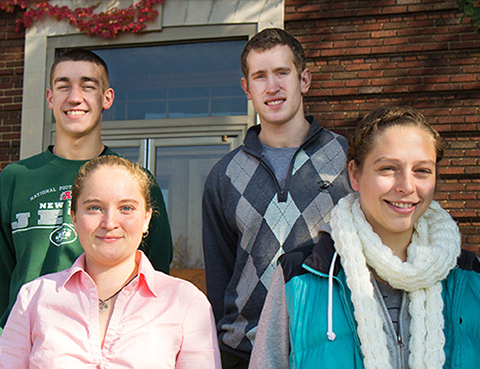 The Fink Fellowship Committee at ESF has announced the students chosen as award recipients for the program's inaugural year.
Courtney Compton
Courtney Compton, who is pursuing a Master of Forestry degree in forest management and operations, received funding to help with expenses associated with attending the National Society of American Foresters (SAF) Convention in Charleston, S.C. This opportunity will provide an opportunity for allow Compton to network with and learn management strategies from professional foresters all over the United States. She will also participate in the SAF Quiz Bowl.
Thomas Decker
Decker is an environmental resources engineering student. He received funding to attend the Institute of Electrical and Electronics Engineers' Global Humanitarian Technology Conference in Silicon Valley, Calif. He hopes to develop his skills as a humanitarian engineer and build upon the knowledge of technology and the developing world that he learned at ESF. He also hopes to create networks that could lead to a potential career after graduation.
Sophia Pevzner
Pevzner, a wildlife science student, received funding to cover expenses related to a chemical immobilization two-day workshop put on by Safe Capture International. The workshop focuses on proper techniques for the safe handling of anesthetized animals. She will receive a certificate showing her training in the immobilization of animals. Pevzner is also attending the International Wolf Conference in Duluth, Minn., where she will connect with wolf biologists, conservationists, managers and others.
Qing Ren
Ren is a master's student in environmental interpretation. She received funding to attend the North American Association for Environmental Education Conference in Baltimore, Md. This is Ren's first opportunity to attend a conference; she looked forward to making connections, listening to different perspectives, and learning about practices and research in environmental education.
Joshua Rhoades
Rhoades, an environmental science major concentrating on watershed science and engineering, is the founder of a start-up venture through which he is developing a cookware product. His funding will go toward the production of 10 prototypes of his product for beta testing. This project will be useful in his desired career as an entrepreneur or product development manager.
The Fink Fellowships are supported by the Betsy and Jesse Fink Foundation. Besty Mitchell Fink and Jesse Fink are both members of the ESF Class of 1979.
Deadlines for future application submission are Nov. 18 for spring opportunities and April 20 for summer opportunities.
Recent ESF News
News Archives
Communications & Marketing
SUNY-ESF
122 Bray Hall
1 Forestry Drive
Syracuse, NY 13210
315-470-6644