SHARE:
SUNY-ESF Students Join 350.org Event
Effort calls attention to finding solutions to climate change

10/22/2009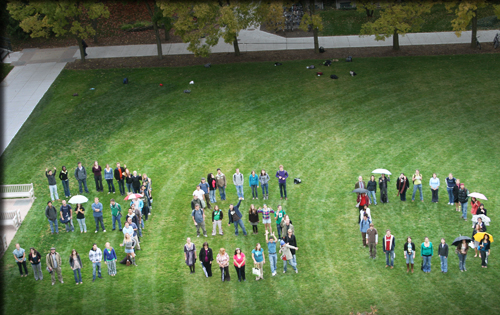 SUNY-ESF students, joined by some faculty and staff members, gathered on the ESF quad Oct. 22 to form the number 350 to support the International Day of Climate Action.
The effort was spearheaded by 350.org, an international campaign that is focused on finding solutions to climate change. The number 350 refers to 350 parts per million, the level that has been identified as the safe upper limit for carbon dioxide in the atmosphere.
At ESF, scores of students took a quick break from their studies at lunchtime and gathered for a photo in response to 350.org's suggestion that supporters incorporate the number 350 at an iconic location in their community. The ESF Quad has, for many years, been a centerpiece for campus activity.
Recent ESF News
News Archives
Communications & Marketing
SUNY-ESF
122 Bray Hall
1 Forestry Drive
Syracuse, NY 13210
315-470-6644