SHARE:
Snow Blankets College of Forestry Campus
College staff had shovels at the ready

2/14/2011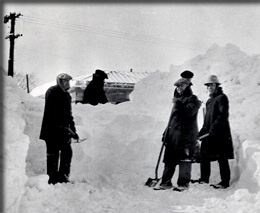 The more things change, the more they stay the same. Photos taken in March 1932 show campus personnel digging out from piles of snow. These photos were taken by the north entrance of Bray Hall. Seventy-nine years later, Physical Plant staff members have been facing a similar challenge. Snowfall in Syracuse has measured more than 140 inches so far this year.

Recent ESF News
News Archives
Communications & Marketing
SUNY ESF
122 Bray Hall
1 Forestry Drive
Syracuse, NY 13210
Communications@esf.edu