Great Lakes Research Consortium


Rochester NY
This buoy is located in the Rochester Embayment along the south shore of Lake Ontario near the outlet of the Genesee River. It is located in approximately 60 feet (20 meters) of water and at the edge of Lake Ontario's nearshore zone.
Maintained by SUNY College of Environmental Science and Forestry
43.295 N, 77.595 W
Current Data
Live data is currently unavailable.
Status: Buoy has been removed for the season.
Description
The buoy system consists of a TIDAS 900 platform equipped with a weather station measuring solar radiation, temperature, humidity, barometric pressure, wind speed and direction. The TIDAS buoy has an inertial wave sensor which measures wave height, speed, direction and period. A temperature new album reviews string measures water temperature from surface to bottom in approximately 6 foot intervals. This information is transferred to the GLRC via a cellular modem. The TIDAS 900 is also capable of housing and transmitting data from additional sensors. This buoy is equipped with sensors for chlorophyll, phycocyanin, DO, turbidity, conductivity, pH and temperature. This data is not currently available online but maybe requested from the GLRC at GLRC@esf.edu.
This buoy is deployed in mid to late April and retrieved in mid-October. Funding for this buoy comes from the Great Lakes Research Consortium (GLRC), The Great Lakes Observing System (GLOS), the US-EPA via the Great Lakes Restoration Initiative (GLRI) and from SUNY ESF.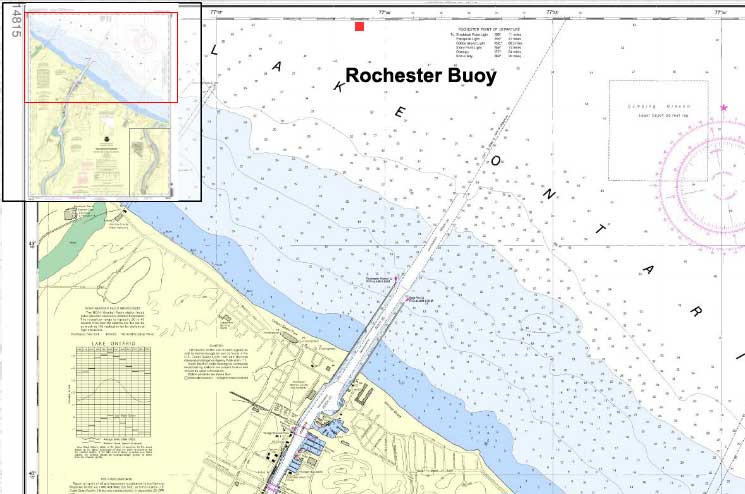 Source: NOAA online Chart viewer
Disclaimer: Data published on this website is not intended to be used for navigational or operational purposes. Due to atmospheric or other conditions, latest data may not be available.