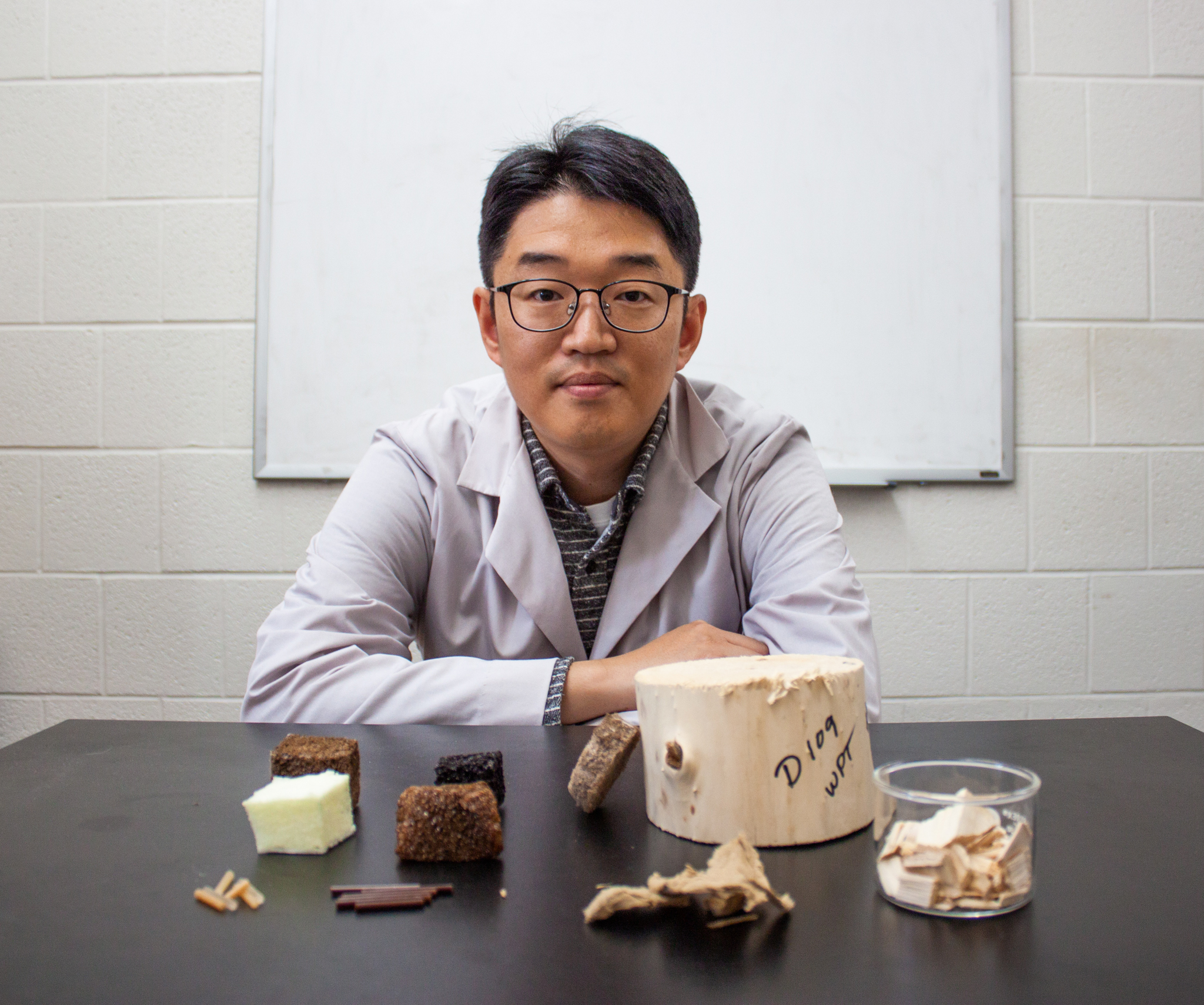 Dr. Chang Geun Yoo Receives NSF CAREER Award
Developing ways to increase the sustainability of the paper industry and potentially drive down the cost of biofuels has earned Dr. Chang Geun Yoo the National Science Foundation (NSF) CAREER Award, the most prestigious grant that NSF offers to early-career faculty. Dr. Yoo is an assistant professor in the Department of Chemical Engineering at the SUNY College of Environmental Science and Forestry (ESF).
The award will help Yoo advance his research, Understanding of Biomass-Derived Deep Eutectic Solvents for Sustainable Biorefinery Strategies. The Faculty Early Career Development (CAREER) Program supports early-career faculty who have the potential to serve as academic role models in research and education and to lead advances in the mission of their department or organization. Yoo was awarded approximately $570,000 to develop new areas of research and student education.
Lignocellulosic biomass (wood, grass, agricultural, and forestry residues) is a renewable alternative or supplement to petroleum-based resources for energy, chemicals, and materials. However, natural features of lignocellulosic biomass impede its effective conversion, necessitating a pretreatment step by separating it into individual components (fractionation) to maximize its utilization.
Yoo's research team will pursue a new approach to producing a green biomass fractionation process based on deep eutectic solvents (thermally stable, less volatile, and tunable liquid mixtures) derived from the biomass itself. This unique approach will produce biomass-derived chemical products using a process that does not introduce non-bioderived processing agents.
Following the model from the petroleum refinery – which uses each component from the crude oil to produce multiple products to boost profitability. By finding ways to use all of the biomass, Yoo is confident it will make biofuel and biomass-derived products more affordable and profitable alternatives.
"The dilemma is even if we get a green technology, due to the low crude oil price, it won't be available in the real market," he said.
Originally from South Korea, Yoo understands the need to use resources sustainably. "South Korea is a tiny country that does not have many resources. We import everything, so I was interested in biofuel because gasoline prices in South Korea are almost twice, sometimes three times, the price in the U.S."
Energy security is a big issue in South Korea because events in other countries can impact their energy supplies and economy. "It motivated me to find a better way to secure the energy security," of his home and adopted countries, Yoo said.
The CAREER Award includes educational and outreach elements to train future technical leaders in sustainable chemical engineering, a goal that is well-aligned with ESF and the chemical engineering department's mission, said Yoo.
Yoo will support undergraduate student research in sustainable chemical engineering fields. He is a faculty mentor for Louis Stokes Alliance for Minority Participation (LSAMP) program and will also support high school student research through his Sustainable Material Summer Workshop for local high school students with his ESF and Syracuse University colleagues.
"I am very glad to see that NSF is recognizing the scientific excellence, incredible productivity, and initiative that Dr. Yoo has shown since joining us at ESF," said Dr. John Stella, Vice President for Research at ESF. "This award will advance the reach and impact of Dr. Yoo's research, as well as ESF's overall capacity and role in addressing climate change through biomass-based solutions."
Yoo joined ESF's Department of Chemical Engineering in 2018. His Biorefinery Engineering Laboratory focuses on the development of biomass utilization strategies for sustainable, renewable, and eco-friendly products including fuels, chemicals, and materials.
About SUNY ESF
The SUNY College of Environmental Science and Forestry (ESF) is dedicated to the study of the environment, developing renewable technologies, and building a sustainable and resilient future through design, policy, and management of the environment and natural resources. Members of the College community share a passion for protecting the health of the planet and a deep commitment to the rigorous application of science to improve the way humans interact with the world. The College offers academic programs ranging from the associate of applied science to the Doctor of Philosophy. ESF students live, study and do research on the main campus in Syracuse, N.Y., and on 25,000 acres of field stations in a variety of ecosystems across the state.