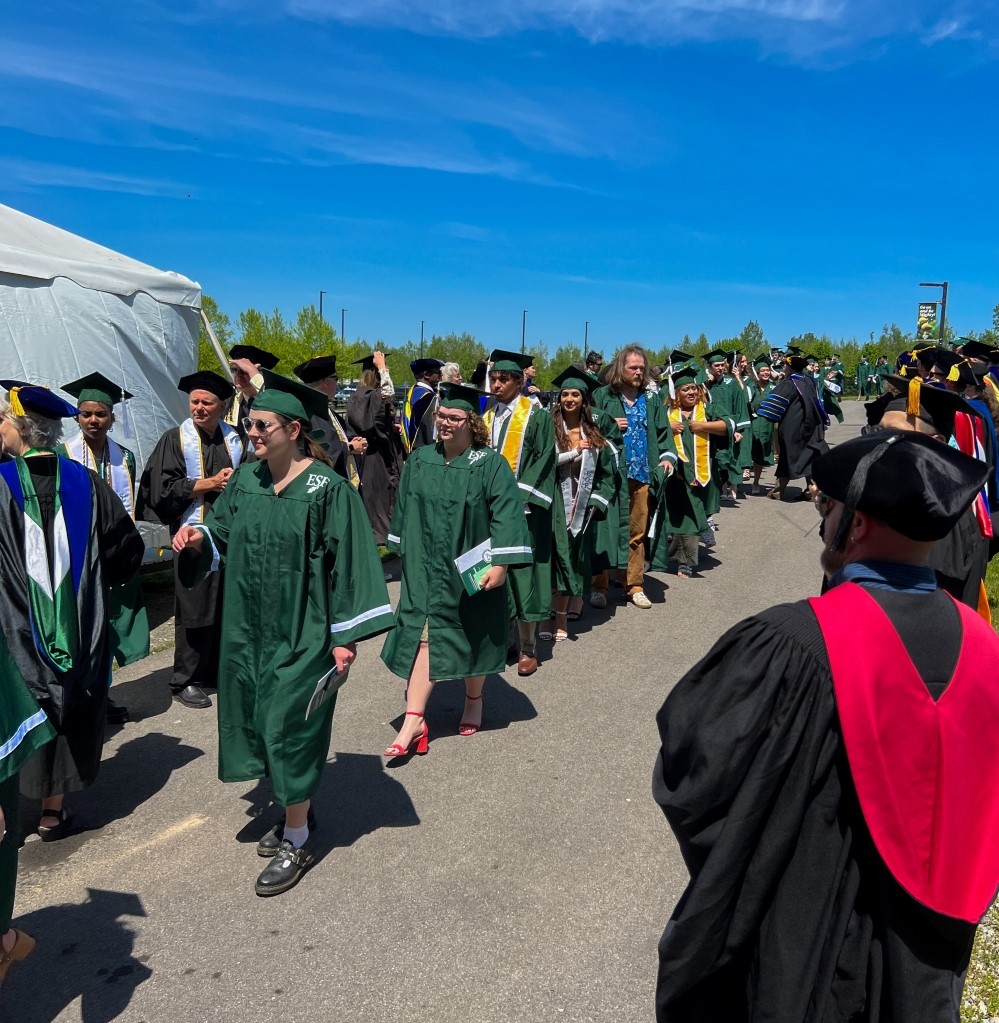 SUNY College of Environmental Science and Forestry Celebrates the Class of 2023
Syracuse, NY, May 13, 2023 — With sunlight sparkling off the waters of Onondaga Lake, the SUNY College of Environmental Science and Forestry (ESF) conferred degrees on 370 graduates during commencement exercises at the St. Joseph's Health Amphitheater at Lakeview.
ESF President Joanie Mahoney offered the graduates her congratulations, noting the significance of holding the ceremony on the shores of Onondaga Lake and the College's long involvement with the lake's restoration.
"Graduates, I remind you of the lake's history because it illustrates the power you hold to change the world for the better. At ESF, you learned from experts, you trained in the field and conducted research in laboratories, you worked and studied hard, you persevered through a global health pandemic that disrupted your first year as a college student. And you are ready to replicate this success story all over the world," Mahoney said.
Student speaker KC Coryatt, an Environmental Studies major with a focus on environmental policy, planning and law, reflected on the journey she and her classmates took – one that included the challenges of a global pandemic.
"The tools I learned through my time at ESF allowed me to recognize the importance of community and the need to address where things in our world are going awry. Over the years, I have learned so much about the ways that environmental issues are deeply connected to our current systems. I have listened to my peers discuss their feelings of discomfort in certain environmental spaces," said Coryatt.
"We recognize that environmental issues cannot be solved without addressing systemic injustices and inequities," she continued. "We know that communities of color, low-income communities, and Indigenous communities are disproportionately affected by environmental harm. We understand that we cannot talk about sustainability without also talking about social justice. Environmental justice is social justice. Caring for our planet means caring for ourselves."
ESF welcomed environmental activist Anne Therese Gennari, author of "The Climate Optimist Handbook," as the Commencement speaker. Gennari shared her passion for empowering people to get excited about changing the narrative on climate change so that they can act from courage and excitement to co-create a better world.
"Change. We are here to choose change. And, in doing so, we need to muster a lot of curiosity and courage. We have to flip every stone and keep asking questions. But we must accept that sometimes the answers are not yet here to be found," said Gennari. "We must practice that childish wonder of 'What if?'"
"You have been called. You are here today for a reason. Whatever brought you to ESF, it doesn't matter, as long as you keep coming back to these 'what ifs.' Because the 'what ifs' hold more promise than any pragmatic truth ever will. The only thing we know with absolute certainty today is that tomorrow is uncertain. The script of tomorrow is yet to be written and we, everyone in this amphitheater and every single person on this planet, are invited to help write that script. If we choose to do so is up to each of us, but I personally think it's a journey too exciting to miss out on."
Along with their degrees, the class of '23 amassed other honors. Dr. Valerie Luzadis, Interim Associate Provost and Dean of the Graduate School, noted these achievements:
11 bachelor's candidates completed the ESF Honors Program

42 inducted into Alpha Xi Sigma, the ESF Honor Society

7 inducted into Sigma Lambda Alpha, the national landscape architecture honor society

1 inducted into Sigma Lambda Chi, the International Construction Honor Society

29 graduating seniors were ESF in the High School participants

2 veterans of the United States Armed Forces
Gary Lipp, president of the Alumni Association, urged the graduates to be active and get involved.
"Wherever you go or whatever positions you occupy, be sure to pay it forward. 'It' being the knowledge you learned at ESF about the importance of the preservation of our environment," Lipp said. "Try to enlighten as many lives as you possibly can! We need a scientifically literate population that will understand the need to promote change in order to address the critical environmental issues that we are facing today."
Executive Vice President and Provost Dr. Samuel Mukasa offered the class of '23 two pieces of advice.
"It will be all too easy in the world … to lose contact with friends and even relatives. Be very intentional about checking in – and that includes checking in with us at ESF – and supporting the generations that will come after you. And hold on to the resilience you have developed here at ESF during the pandemic years because if you do, you will always have optimism about tomorrow, and that – dear Mighty Oaks – is the key to a happy life."
About SUNY ESF
The SUNY College of Environmental Science and Forestry (ESF) is dedicated to the study of the environment, developing renewable technologies, and building a sustainable and resilient future through design, policy, and management of the environment and natural resources. Members of the College community share a passion for protecting the health of the planet and a deep commitment to the rigorous application of science to improve the way humans interact with the world. The College offers academic programs ranging from the associate of applied science to the Doctor of Philosophy. ESF students live, study and do research on the main campus in Syracuse, N.Y., and on 25,000 acres of field stations in a variety of ecosystems across the state.