Alumni Spotlight: ESF Sweethearts
Kayla Cocquyt '06 and Greg Cocquyt '07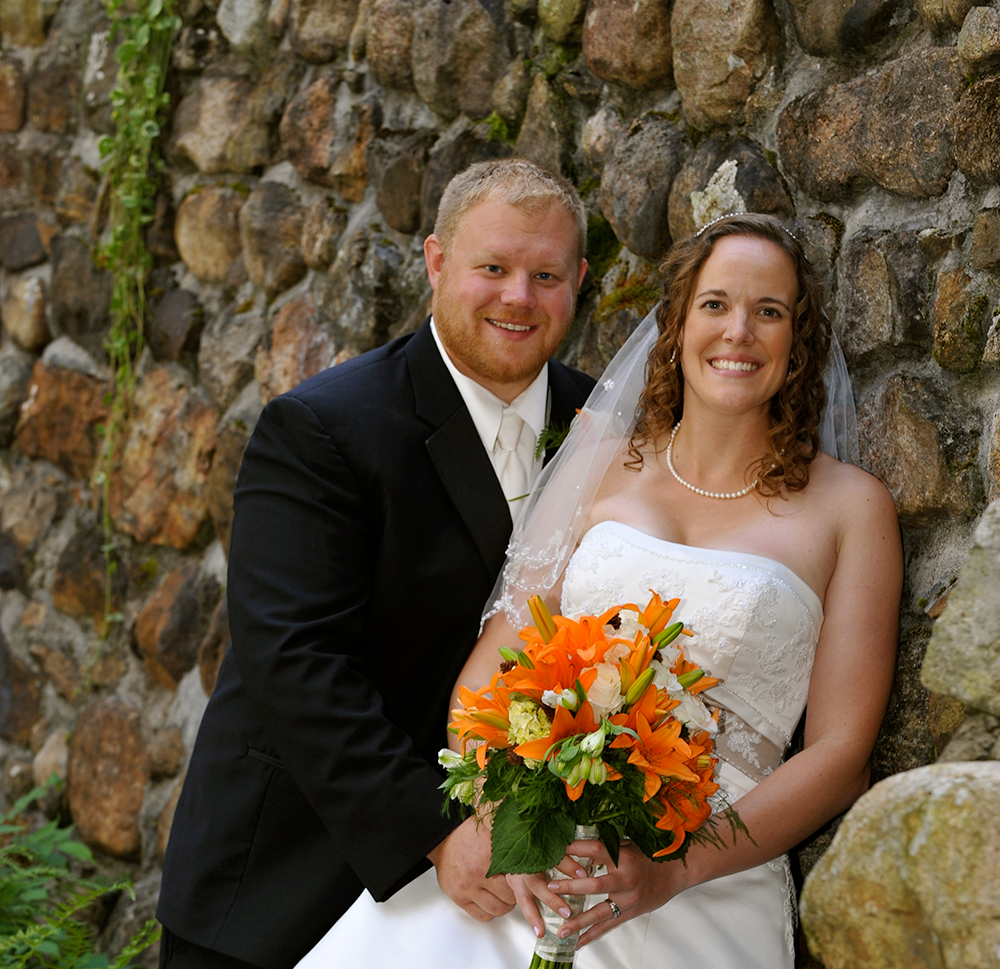 Kayla and Greg Cocquyt met on the Timber Sports practice field, a spark igniting over a bow saw blade. The couple officially started dating in November 2005, their bond growing stronger with each axe swing, chainsaw cut, and log toss.
When Kayla and Greg both graduated, they decided to venture through the great outdoors and embark on a three-month cross-country trip exploring national parks. They went as far west as California and up to Alaska. The open air, sense of adventure, and connection with nature forged bonds they value to this day.
Kayla and Greg returned to New York state to build their careers. Greg worked on a fishing boat, eventually landing a role with the New York State Department of Environmental Conservation. Kayla went back to school for her master's degree and became a teacher in the Fayetteville-Manlius school district. She's currently in her 13th year and just started teaching an ESF in the High School course.
Greg popped the question on a romantic trip to the Adirondacks they took to celebrate their sixth year of dating. The couple married in 2012 in the Adirondacks with all of their good friends from the timber sports team present to celebrate their nuptials.
Juan Farinha and Debora Barbosa, Both Class of '14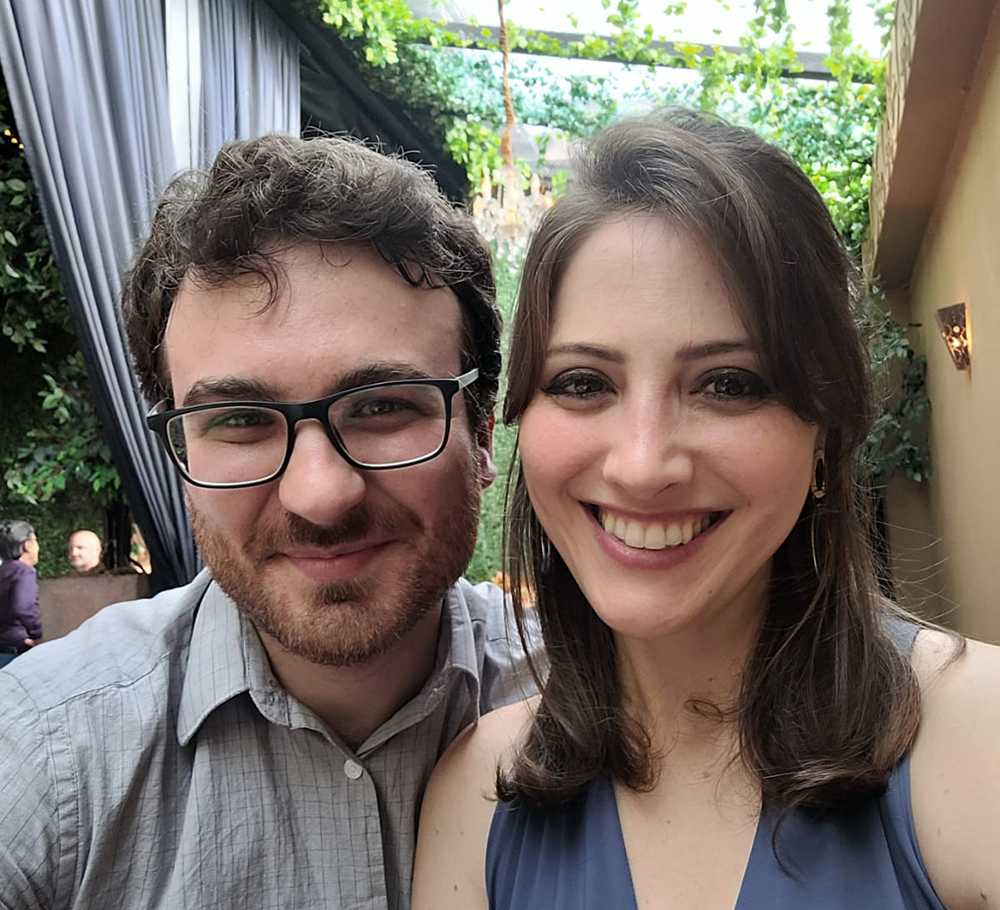 Juan Farinha and Debora Barbosa grew up in not too far from each other in Brazil, but didn't meet until they each came the United States. Debora texted Juan when she saw him on a list of people that were part the same abroad program that brought them to ESF. The two planned to meet near the Syracuse University Hall of Languages on their first day and got to know each other at graduate student orientation.
They struck up a friendship, and would help each other move, find apartments, and talk about their shared experiences as Brazilians studying in the US.
Still friends by their second year, Juan and Debora moved into a group apartment with other mutual fields. As they spent more and more time together they started developing feelings for each other.
Juan and Debora officially l started dating following a Halloween party in 2015.
They both returned to Brazil upon graduation and moved in with each other after a few months. Juan works as a marketing strategist at Embraer, a commercial aircraft manufacturer, and Debora works as a civil engineer for the city of Sao Jose dos Campos.
They will celebrate eight years of dating this year.
Connor and Nina Dawson, Both Class of '19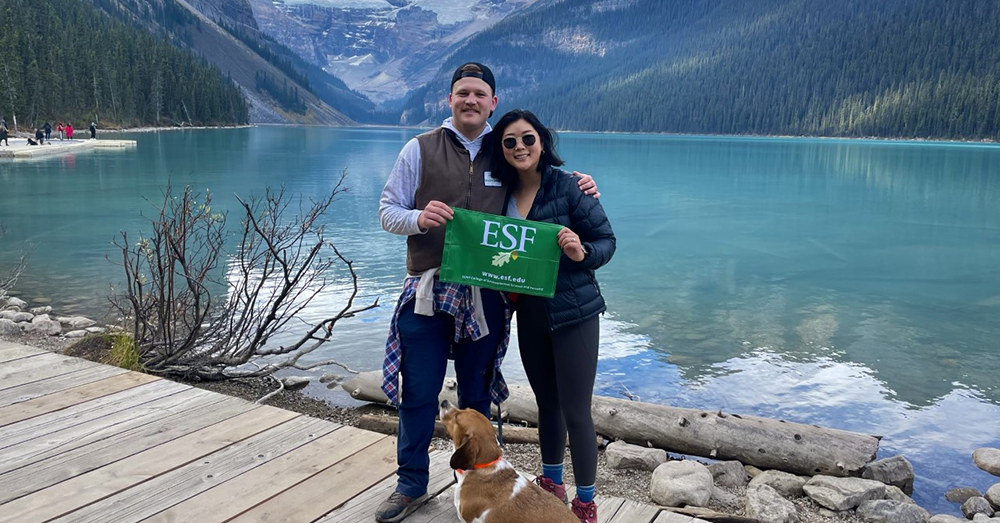 Connor and Nina Dawson had the quintessential College first date: at Moon Library. It was a romance for the books, and the pair were inseparable from the start.
After graduation, Connor and Nina moved to Rochester to pursue careers working in the environmental sector—Nina as an environmental engineer and Connor in solar installation. When the pandemic hit, they realized they could do their work from anywhere and decided to move west to Coeur d'Alene, Idaho, in 2021.
Two weeks before their adventure, they were on a fishing trip with fellow ESF alumni when Connor proposed. Nina reached down to open a bag and when she turned around, Connor was on one knee. They married on Aug. 7, 2022, in Buffalo, joined by several ESF alums who made up their wedding party.
As the Dawsons travel together, they bring their ESF flags with them to celebrate the place where their love was sparked.