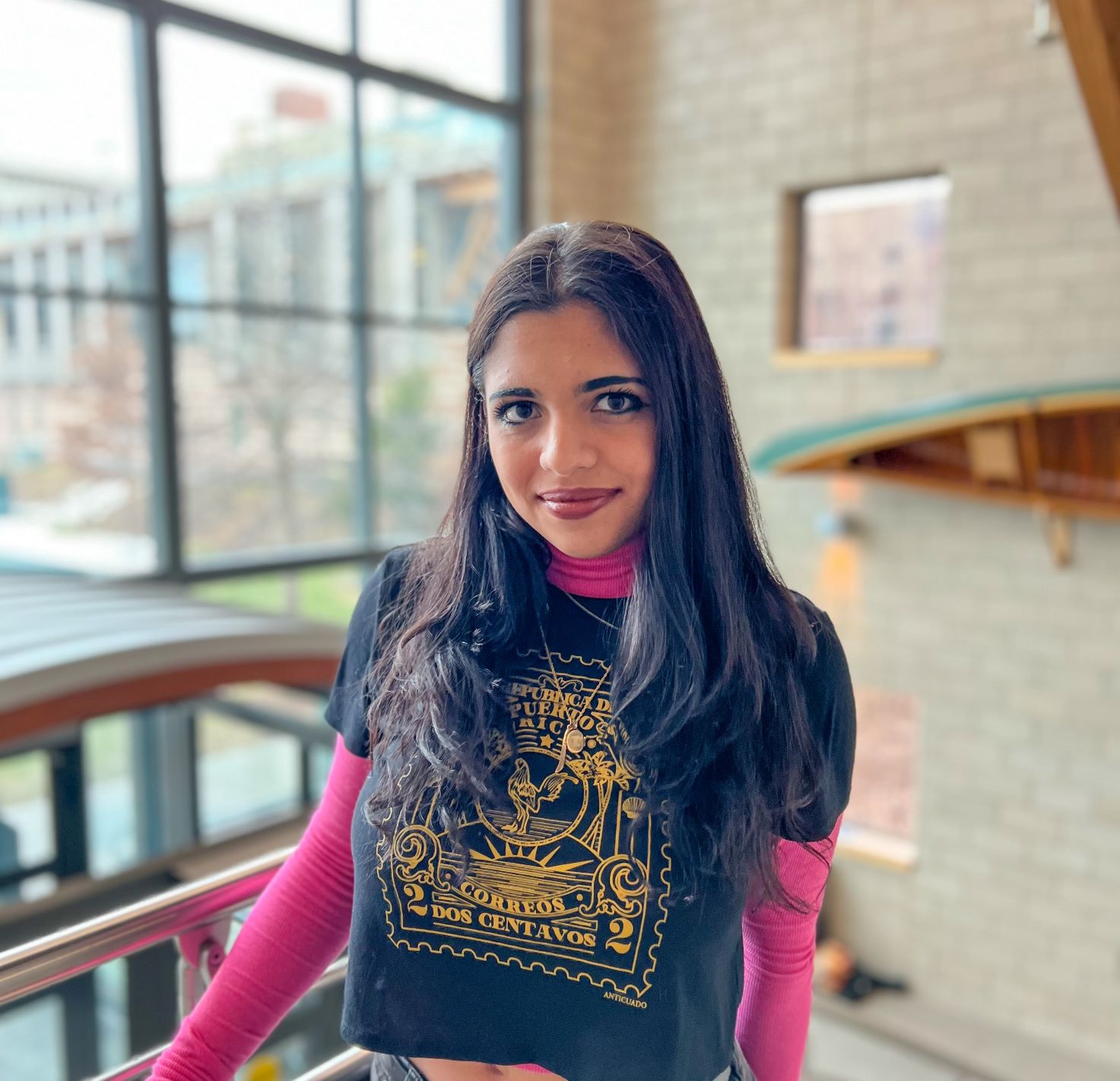 Mighty Oak Monday: Isabel Valentín
Major: Environmental Studies
Concentration: Environmental Policy, Planning, and Law
Hometown: San Juan, Puerto Rico
Class of '24

On an unusually warm winter day in Syracuse, Isabel Valentín finds herself scrolling through social media posts and comments.
"You can feel the climate anxiety oozing from each word," she remarked.
When Isabel sees these comments, she experiences a different feeling: vindication.

"In Puerto Rico, we've been dealing with the disastrous effects of climate change-induced hurricanes since before I was in diapers," she said. "Many people in the U.S. are still waking up to the effects of climate change on their daily lives."

It makes her determined to affect change in the wake of climate fears and use them as opportunities to talk about solutions– and environmental justice is always top of mind for her. Through dozens of disasters not unlike the historic Hurricane María she's seen how communities can be marginalized and forgotten by systems meant to help and protect people.

Isabel promised herself she would spend her life fighting for marginalized communities/groups. Once she came to ESF to pursue her passions in environmental policy and science, she began to get more involved.
The work that energized her the most was what hit closest to home – ESF's work in Vieques, Puerto Rico. The College has engaged in service work, research, disaster relief, and sustainability-related projects over the past decade in partnership with the residents of Vieques via community-driven organizations and led organizations.
Isabel first got involved when she met ESF's Executive Operating Officer, Chief Sustainability Officer, and principal force behind the College's Vieques effort Mark Lichtenstein. He invited Isabel to join a service trip to Vieques in May of 2023. She started interning with his office afterwards and soon secured a part-time job at the Syracuse University Center for Sustainable Community Solutions, working on related Puerto Rico initiatives. Isabel was impressed by all the work that was being done, but quickly realized there was more to do.
With Lichtenstein's support and with input from fellow ESF students, she created the Vieques Adaptability Framework Response (VAFR). This is a living document—a guide—which identified actionable items to better conduct research and service in underserved communities, with a focus on Vieques. The guide includes better methods of leaving no trace and checking biases, but Isabel is most proud of the aspects that create a lasting impact.

"It goes beyond one-time volunteerism and focuses on ways to create a lasting impact," she said adding, "One-time trips are great, but these communities that need resources deserve more."

Isabel's capstone project focuses on creating an equitable way for colleges to conduct research in underprivileged areas. VAFR is being developed using ESF's service-learning trips to Vieques as a blueprint. Isabel will complete the document and guide her through her senior year.

Isabel is now a junior and halfway through taking the LSATs and applying to law schools. She plans to join advocacy efforts for those in Puerto Rico and the Caribbean that current laws disenfranchise after earning her law degree

"Our laws are broken because they don't serve all people," she said. "I want to be part of the team that changes the laws, so they can help protect those people and preserve the natural world."
Learn more about ESF's Environmental Studies program.