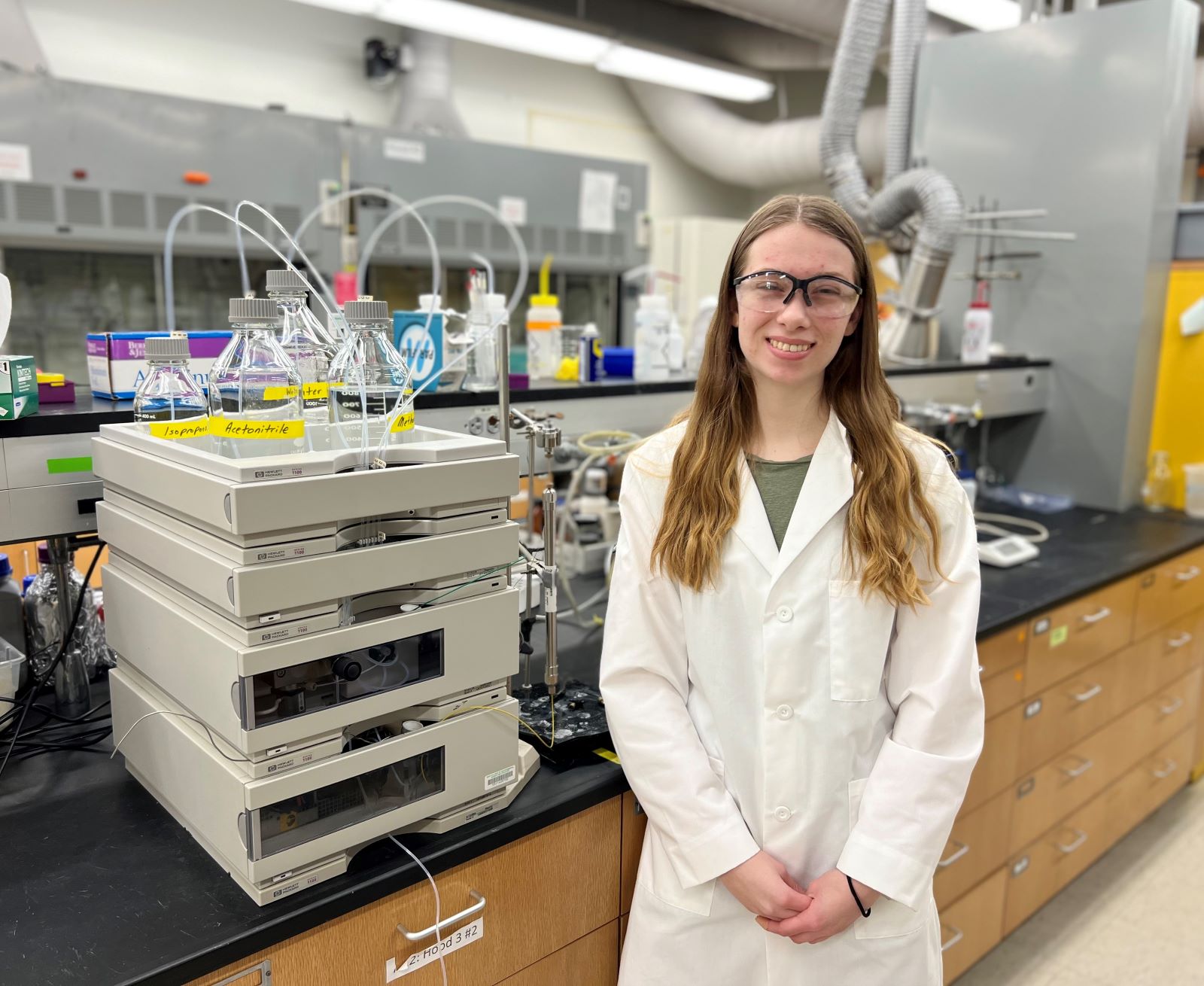 Mighty Oak Monday: Sarah Crane
Major: Chemistry
Hometown: Clifton Springs, NY
Class of '23

Sarah Crane could smell the garbage as she passed by the landfill in her hometown of Clifton Springs. While the stench was overwhelming, what was happening below ground was truly insidious: The landfill leachate contaminated the well water, making it unusable. As a result, she saw firsthand the effects of a community denied access to clean drinking water.
That experience spurred Sarah's interest in how livestock feed additives impact the water supply in rural communities. Now, at ESF, she's researching the photodegradation rate of ractopamine, a sparsely studied but widely used chemical in commercial agriculture.
"We know the compound ends up in waste byproduct of cows and surrounding water systems," she explained, "but we don't know how fast it degrades, how much seeps into the water, and what the effects are on humans."
Sarah's hard work recently earned her the 2023 Thomas Slocum Career Advancement, which provides one May graduating senior with a $2,500 award to assist with job travel related to interviews, relocation expenses, building a professional clothing closet, and more. The Award was created from the Betsy and Jesse Fink Career Development Program in remembrance of Thomas Slocum, ESF's Director of Career and Counseling services from 1977 to 2008. It honors the support Tom showed to Jesse in making possible his attendance at a job interview that helped launch his professional career. Every year, it is given to students who embody this career readiness spirit and would benefit from the jumpstart this award would provide.

Now a senior pursuing her bachelor's in Chemistry, Sarah reflected on the benefits of having the opportunity to jump into research as an undergrad at ESF.
"I remember meeting Dr. Pflug at a Chemistry Department Mixer and he was looking for students to work in his labs," Sarah recalled. "After emailing and a quick conversation, I was working on a project that meant so much to me personally."
It was a little intimidating when Sarah first entered the professional lab. She quickly found she had all the necessary skills to learn and immerse herself in research from Dr. Pflug's mentorship and her classes. She wants other ESF students to know they have the skills, too.

"There's so much opportunity at ESF," Sarah said. "All students need to do is express interest and bring their passion to the table."
Learn more about ESF's Chemistry program.