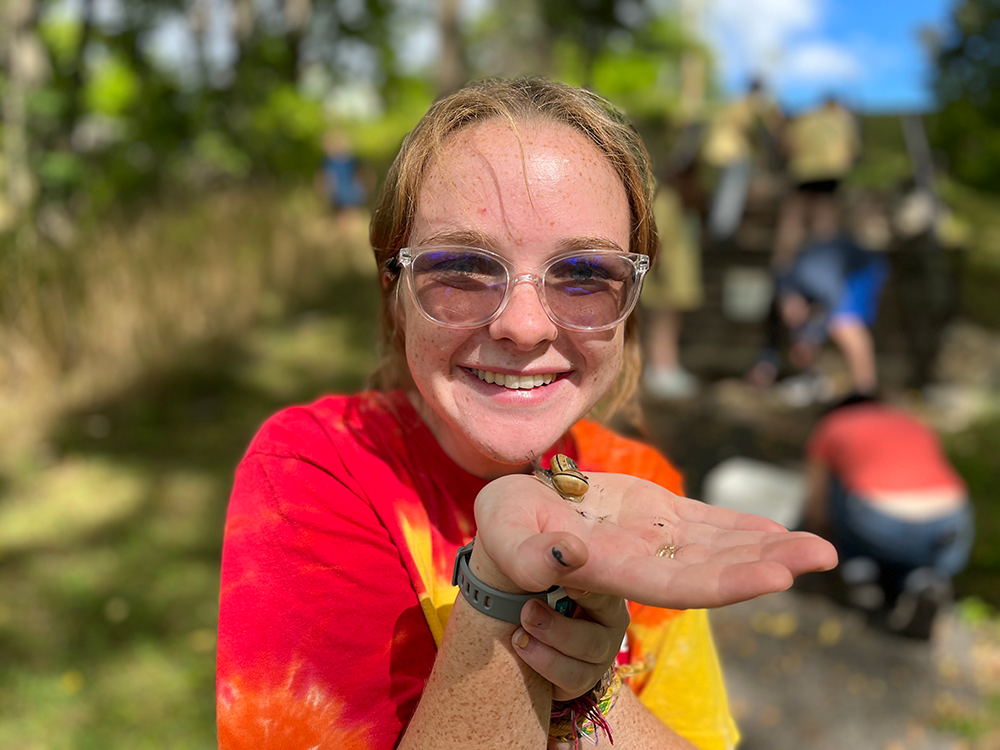 Mighty Oak Monday: Clara Tyrel
Student Orientation Leaders (OLs) at ESF help first-year and transfer students make the successful transition to college. They bring a positive attitude, energy, and empathy to their role leading a small group of first-year students throughout orientation week. OLs also stick with the students as they start their ESF journey, serving as a peer mentor in ESF 132 courses.

Clara Tyrel was one of three students that led last year's group of student orientation leaders. Now a senior, Clara is looking to pass the baton. Find out why she loved being an OL!
Q: What did you love about being an orientation leader?
A: Not only are you part of a team of incredibly rad people, but you get to bring the energy, goofy-ness, positivity to help first-year students and transfers feel more at home. I loved getting to know each incoming student and watching them grow throughout the year.
Q: Do you have a favorite memory from being an orientation leader?
A: It's hard to pick just one, so I'll tell you about two. One of my favorite memories from orientation in 2022 was the scavenger hunt. I paired with another orientation group and we raced to see which team could finish the list and get to the final spot first. The pictures we got from the teams were fantastic and we saw how much they bonded in that time. Another favorite memory was answering commuter students' questions and then we played hide and seek throughout an entire building at ESF. I was a commuter student myself, so I knew how they were feeling. I still see them all together a whole semester later.
Q: How does being an orientation leader help contribute to your future?
A: Being an orientation leader afforded me the opportunity to work with a large team and help people from many different backgrounds. You learn very quickly how to read a room and understand what the students might be needing in the moment. I want to be an outdoor educator in the future; being an OL is a great resume builder for that because as a teacher you are inherently a leader. I think for anyone looking to work in a profession that interacts with people on a large scale, this is an incredible opportunity.
Q: What would you say to someone thinking about being an orientation leader?
A: Do it! Being an Orientation Leader is so much fun. Most people think that to be an OL you can only be that outgoing, loud, energetic person (which of course we do need), but just like we have all kinds of students, we need all kinds of leaders. It is quite a bit of work, but watching the difference you make for new students on top of being part of the team, makes it worth it.
Applications for the Orientation Leader Program are due on Wednesday, Feb. 22. Submit yours today!

Orientation Leader Responsibilities
Serve as a positive role model
Attend and actively participate in the OL training programs in Spring and Summer
Assist with the organization, preparation, and implementation of New Student Orientation
Acquaint new students with campus services, activities, facilities, and campus traditions
Actively participate in Fall and January Orientation activities
Lead tours and facilitate discussion groups for incoming students and/or families
Become a peer mentor in the ESF 132 courses
Assist with the new student registration and course selection process
Orientation Leader Qualifications
Minimum 2.5 cumulative GPA
Must relate well with students, families/caregivers, faculty, and administrators
Must be mature, responsible, and display a willingness to help student transition to ESF
Must be currently enrolled as a student at ESF in good academic and judicial standing
Must present a professional demeanor that favorably represents the institution and academic department
Must work well with others and be able to work collaboratively in groups
Must want to have fun!