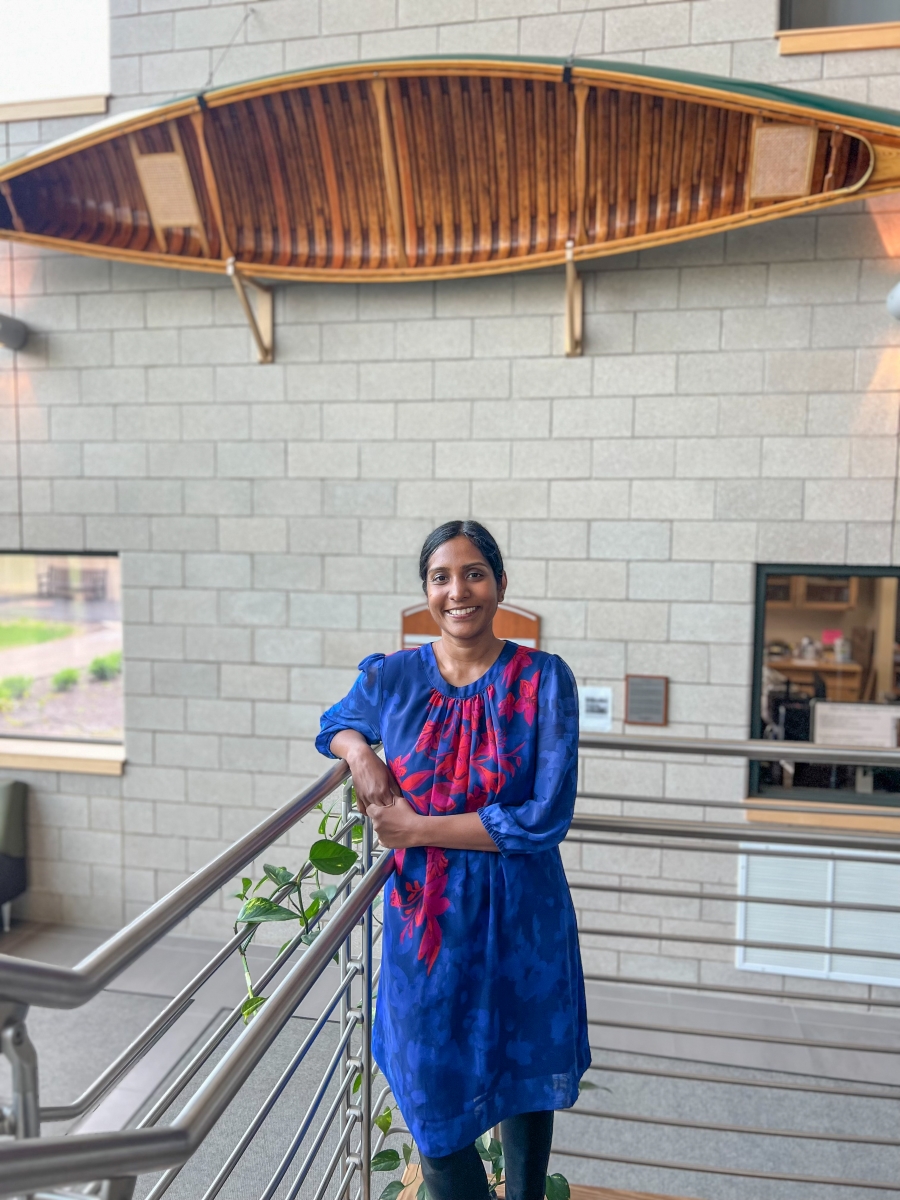 Staff Spotlight: Danushi Fernando
Danushi Fernando joined ESF as the new Chief Diversity Officer (CDO) in April. She brings more than 10 years of experience in diversity, inclusion, equity, and accessibility from Vassar College, Clarkson University, and Farleigh Dickinson University. At ESF, her goal is to make sure that everyone feels supported, heard, and knows that they belong. How does she tie her life experience with her work at ESF?

Q: Why are you passionate about Inclusion, Diversity, Equity, and Accessibility?
A: I first got interested in diversity, equity and inclusion work because of my own experiences as a queer woman, born and raised in the height of the Sri Lankan civil war. I wanted to find ways to navigate conflict that didn't end in bloodshed. I wanted to stop being ashamed of my sexuality. Higher education gave me the space to explore all this. On the way, I learned that I really enjoyed bringing people together to have tough conversations. I loved these bridge-building opportunities because they helped people recognize each other's humanity. This is what made me fall in love with my work. To help someone see themselves in another's eyes is the first step in their journey to realize that every single one of us is deserving and entitled to living the life we want for ourselves. It's wonderful that I can help someone on their journey!

Q: Tell us about your community service work with HarborLab, a volunteer-led environmental nonprofit.
A: I am the volunteer and intern manager for HarborLAB. We use kayaking and canoeing to educate and provide access to the New York City waterways. As one of the only predominantly person-of-color volunteer organizations on the NYC waterfront, our services are focused on under-resourced and marginalized communities.
Q: What are some of your goals for diversity and inclusion at ESF?
A: My overarching goal for ESF is that its current and future and community members feel that they all truly belong here. We can accomplish our goals if we work together and trust each other. One of my first goals is to really build and strengthen relationships both on campus and in the greater community. By building a sound foundation of trust, I hope that ESF is seen as a just institution and that marginalized communities feel visible and recognize that they have a space for them to thrive.

Q: What should know about the Office of Inclusion, Diversity, and Equity (OIDE).
A: Students should know OIDE is a campus resource. We exist to support them and to amplify their voices. I want our students to know that our mission is for them to flourish at ESF so that when they leave, they know that they have a community to fall back on.