SUNY ESF


2023 Graduates of Distinction Awards
Lifetime Achievement Graduate of Distinction Award
Dr. Mercy Borbor-Córdova '99 & '05
Environmental Science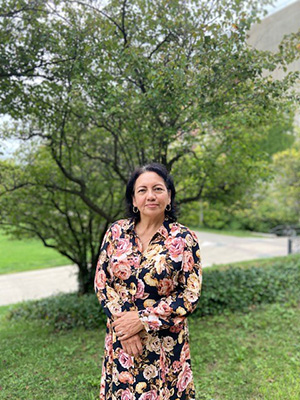 Dr. Mercy Borbor-Córdova's lifelong interest in the environment began as a child in the diverse landscape of Ecuador. Growing up across the highlands of the Andes Mountains to the coastal zone on the Pacific Ocean left her impressed by nature. That formative experience led Borbor-Córdova to obtain a bachelor's degree in oceanography at Escuela Superior Politécnica del Litoral (ESPOL) in Guayaquil. Wanting to expand her education, she pursued a Fulbright Scholarship that brought her to Syracuse, N.Y., for graduate degrees at ESF working with Professor Charles Hall.
After graduating, Borbor-Córdova returned to Ecuador to serve as Chief of Environmental Control for the City of Guayaquil for two years. A postdoctoral opportunity took her to work in climate and society at the National Center for Atmospheric Research in Boulder, Col. Since then, the issues of climate and society have been a centerpiece of her professional work.
Her career has focused on weaving scientific evidence into environmental-climate policy and decision-making. In 2010, Borbor-Córdova served as Deputy Minister of the Environment for Ecuador for 3 years. Her relevant work included the first National Strategy for Climate Change and environmental policy implementation in the country's 24 provinces. Her work included conflict resolution of mining and pollution control, policy implementation for forest conservation, and protected areas management.
Borbor-Córdova now serves as an associate professor at the university of ESPOL in Ecuador, where she conducts research in partnership with different stakeholders. Her work has contributed to the National Adaptation Plan and climate resilience measures for cities, and has increased awareness around the interactions of ocean, climate, and human health.
Borbor-Córdova's contributions to the international scientific community include: lead author of the Intergovernmental Panel for Climate Change (2019-2022) and member of the scientific advisory committee for the InterAmerican Institute for Global Change. In 2022, she joined the board of directors of the Galápagos Conservancy, which focuses on protecting and restoring the ecologically rich Galápagos Islands.
Borbor-Córdova's contributions at the nexus of climate, environment, and human health have made a significant impact not only within Ecuador, but also on a global scale. She has participated in two Ecuadorian Antarctic expeditions, was an essential contributor to and attendee of the fourth International Polar Year (2007) and has been Ecuadorian delegate to the Committee for Environmental Protection of the Antarctic Treaty.
For her continuous and impactful service within the area of environmental science, we proudly confer the Lifetime Achievement Graduate of Distinction Award upon Dr. Mercy Borbor-Córdova.
---
Graduate of Distinction Award for Notable Achievement
Richard Centolella '85
Landscape Architecture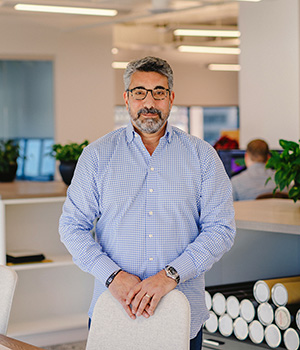 With more than 38 years of his professional life dedicated to the planning and design of landscapes around the globe, Richard Centolella, Partner at EDSA, has acquired a vast portfolio of over 300 projects, including works that have redefined the social, economic, and environmental landscapes of numerous communities worldwide. His projects have not only garnered international acclaim but also have positively influenced the tourism industry and economic vitality of entire regions.
Centolella's portfolio encompasses diverse terrains, from the hills of Tuscany to the tropical shores of the Bahamas to the coastlines of Dubai. In each project, he demonstrates an unparalleled ability to adapt his design to the unique essence of each location, creating spaces that leave lasting impressions on visitors. Notable projects include Castiglion del Bosco (Tuscany, Italy), the Atlantis Resort (Paradise Island, Bahamas), and Madinat Jumeirah (Dubai, UAE).
A benchmark of Centolella's leadership is his ability to focus the team to include environmental conservation and sustainability ideals into the landscape while respecting cultural sensitivities. At the historic Castiglion del Bosco, EDSA integrated tree preservation, wildlife habitat conservation, restorative native plantings, composting, and revegetation. At the Atlantis Resort, Centolella's team focused on preserving and celebrating the region's natural beauty and incorporating marine habitats which created a home to 50,000 sea creatures living in 11 million gallons of water. At Madinat Jumeirah, EDSA raised the bar in cultural contextual design by recreating life as it used to be for residents along Dubai Creek, preserving cultural heritage and artifacts, respecting local populations, and protecting biodiversity.
These remarkable projects are only a small portion of the impressive body of work Centolella led at EDSA. Other notable designs include the Turning Stone Resort Casino (Verona, N.Y.), the Opera House District (downtown Dubai), and various resorts worldwide.
With Centolella's leadership, these designs have not only enhanced the aesthetic appeal of these locales but have also significantly contributed to economic growth. The Atlantis project contributes 11.7% of the gross domestic product and employs 11.5% of the Bahamas workforce; it is also credited with reversing the tourism decline of the late 1980s. At the Turning Stone, his integration of a core resort complex provided economic sustainability for The Oneida Nation, positively impacting employment in this region of Central New York.
It is in recognition of these innovative design approaches and commitment to sustainability – along with a keen awareness of the interconnectedness between natural aesthetics, cultural heritage, and economic development – that we proudly award Richard Centolella with the 2023 Graduate of Distinction Award for Notable Achievement.
---
Graduate of Distinction Incipiens Quercu Award
Gabrielle Sant'Angelo '13
Environmental Studies: Environmental Policy, Planning and Law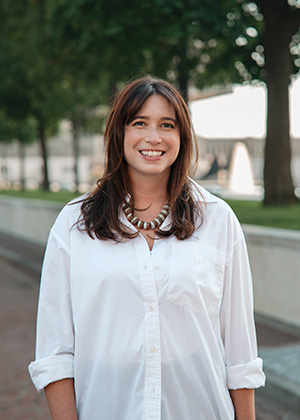 A highly motivated and energetic individual with a passion for land use, open spaces, and environmental stewardship, Gabrielle "Gabby" Sant'Angelo has used her ESF education to advocate for making greenspace accessible to all communities, bridging the gap between diverse populations and the natural world, all while exhibiting a deep-rooted commitment to conservation efforts.
Sant'Angelo's career path since graduating in 2013 includes management positions with the Texas Discovery Gardens and Nine Pin Ciderworks in addition to working with the New York Farm Bureau. She also serves on the board of directors for New York Urban Orchards and has been appointed to the Historic Heath Farm Advisory Committee for the Town of Bethlehem. In her current role as Executive Director of the Pine Hollow Arboretum, she has made incredible contributions to community-driven programs and advocacy for inclusive access to natural spaces.
Through important collaborative efforts with other organizations, schools, and businesses, Sant'Angelo has successfully found ways to connect with underserved communities to provide free transportation and access to the Arboretum. These efforts include art installations with the Albany Barn, music in nature classes with the Albany Symphony, forest bathing experiences, free sensory hikes for kids, and the transportation of dozens of families and groups from inner-city Albany to events at the Arboretum.
In addition to her impact on the local community through her engagement efforts, Sant'Angelo is also assisting in conservation projects that will influence the greater regional and national environment for future generations. She established a partnership with the National American Chestnut Foundation and ESF graduate students to conduct research at the Arboretum examining the Chestnut Tree stand and the Asian Chestnut Gall Wasp. This investigation has the potential to add significant data to the urgent mission of saving the iconic American Chestnut species. She created and nurtured a volunteer work force to tackle the invasive species that threaten the Arboretum and the 3,300 unique trees and woody plants that inhabit its woodlands, fields, and ponds.
With her unwavering passion and expertise, Sant'Angelo has become a leading voice in the New York Capital Region community, promoting environmental stewardship, inclusivity, and accessibility. In recognition of her relentless dedication to ensuring that everyone, irrespective of their background, has the opportunity to connect with and protect the natural world, we proudly confer the 2023 Graduate of Distinction Incipiens Quercu Award upon Gabby Sant'Angelo.
Past Graduates of Distiction
2005
Lifetime Achievement: David M. Hickok '47
Notable Achievement: Anne Papageorge '83
2006
Lifetime Achievement: Curtis H. Bauer '50
Notable Achievement: Steven Anlian '75/'76
Notable Achievement: Col. Richard P. Wagenaar '82
2007
Lifetime Achievement: Edwin H. Ketchledge '49
Lifetime Achievement: Ronald J. Eby '69
Notable Achievement: Mary E. Fowkes '77
2008
Lifetime Achievement: Edward K. Mullen '47
Notable Achievement: James P. "Jake" McKenna '77
2009
Lifetime Achievement: Robert W. Lenz '56
Notable Achievement: Joseph J. Martens '81
2010
Lifetime Achievement: Robert M. Sand '50
Lifetime Achievement: Howard C. "Bud" Ris (MLA) '75
Notable Achievement: James V. Breuer '72
2011
Lifetime Achievement: Ellis Cowling '54
Notable Achievement: Don Moore '76
2012
Lifetime Achievement: Doug Dellmore '68
Notable Achievement: Richard J. Ahearn '74
Notable Achievement: Robert Hargrove '78
2013
Lifetime Achievement: Chin Yang '84
Lifetime Achievement: Robert Kinstrey '67
2014
Lifetime Achievement: Jean M.J. Frechet '69
Notable Achievement: Jin Yoshimura '89
2015
Lifetime Achievement: Diana K. Bendz '68
Notable Achievement: I. Holly Rosenthal '82
Incipiens Quercu: Jeremy Testa '03
2016
Lifetime Achievement: Richard Birdsey '89
Notable Achievement: Robyn Niver '97
Incipiens Quercu: Theresa Evans '09
2017
Lifetime Achievement: Thomas Balsley '68
Notable Achievement: Thomas Moorman '91
Incipiens Quercu: Isabel Munck '02
2018
Lifetime Achievement: Robert Bruck '78
Notable Achievement: Katia Avilés-Vázquez '99
Incipiens Quercu: Seth Jensen '05
2019
Lifetime Achievement: Nikita Lopoukhine '68
Notable Achievement: John Anlian '73
Incipiens Quercu: Roseana M. Burick '06
2020
Lifetime Achievement: Edwin Green '79
Notable Achievement: Jeffrey Morrell '77 & '81
Incipiens Quercu: Makoto Hagi '10
2021
Lifetime Achievement: Gary Hilderbrand '79
Notable Achievement: Ana Menezes '08
Incipiens Quercu: Susan Fassler '12
2022
Lifetime Achievement: Karyn Richards '81 & '84
Notable Achievement: Eric Murdock '93
Incipiens Quercu: Meera Jagroop '12