The ESF Center for Cultural Landscape Preservation, based in the Department of Landscape Architecture, supports the education of landscape architects and students in related professions as best stewards of the cultural environment. The Center brings together interdisciplinary expertise from across ESF, the National Park Service, state parks, and other partners to address challenges in preserving our landscape heritage.
We acknowledge, with respect, the Onondaga Nation, firekeepers of the Haudenosaunee, the indigenous people on whose ancestral lands SUNY ESF and Syracuse University now stand. We give thanks that they are here, stewarding this land.
News and Updates
Fall 2020 and Spring 2021
UPCOMMING!
A Virtual Lecture Series: Historic Preservation & Oakwood Cemetery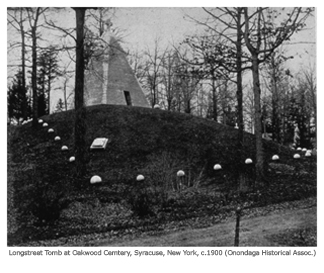 The CCLP and ESF Friends of Oakwood are hosting a virtual lecture series on Oakwood Cemetery and its cultural landscape history, the past and future of cemeteries, what it means to be landmarked, and preservation guidelines. The series speakers include ESF landscape architecture professor emeritus George W. Curry and guest speaker and author David Charles Sloane, Ph.D., who grew up at Oakwood and is Zooming in from the University of Southern California.
For more information, including links to the Zoom lectures, check out the series flyer here.
---
CCLP Research Assistantships Continue through the Spring 2021 Semester
Even with COVID restrictions, ESF Landscape Architecture students stayed busy this past fall assisting with research on National Park Service cultural landscape preservation planning projects. Here are some highlights!
Mary Martin, RA and 2nd year MLA has been working with Aidan Ackerman and the CCLP on visualizing the allee at the Eisenhower National Historic Site in Gettysburg, PA. Ashley Crespo, CCLP RA and 2nd year MLA, continues developing predictive tree growth models for the 40 Memorial Groves that honor the 40 passengers who perished in the crash of United Flight 93 in Shanksville, PA on September 11, 2001. Justin Kwiatkowski, MSLA is also continuing his work at Flight 93 inventorying its landscape features and graphically documenting the development of the landscape since 9/11/2001. Anna Tiburzi, RA and 3rd year MLA, has been sorting through historic photos and plans to develop maps that depict the historic conditions of the Memorial Amphitheater grounds at Arlington National Cemetery that include the Tomb of the Unknown Soldier.
Check out our opportunities page for more information about how to get involved!
Visit Opportunities Page >>