The ESF Center for Cultural Landscape Preservation, based in the Department of Landscape Architecture, supports the education of landscape architects and students in related professions as best stewards of the cultural environment. The Center brings together interdisciplinary expertise from across ESF, the National Park Service, state parks, and other partners to address challenges in preserving our landscape heritage.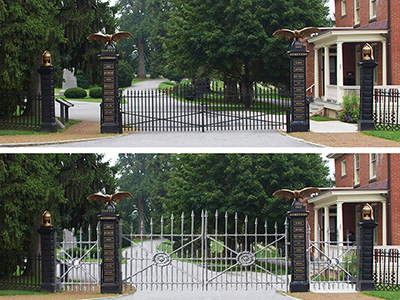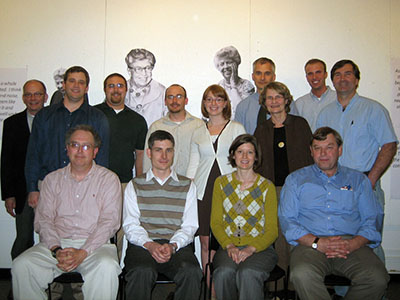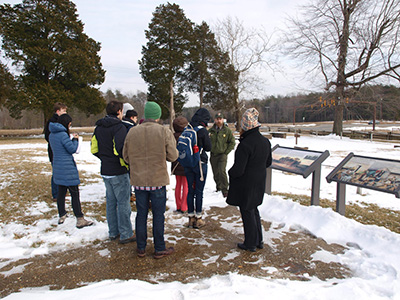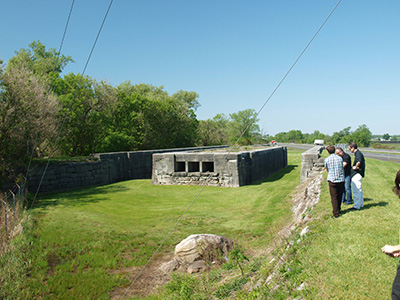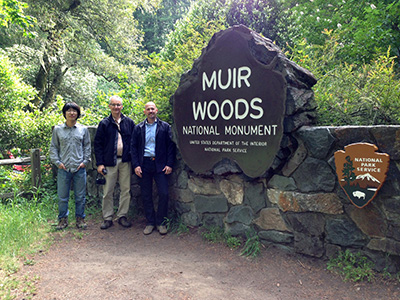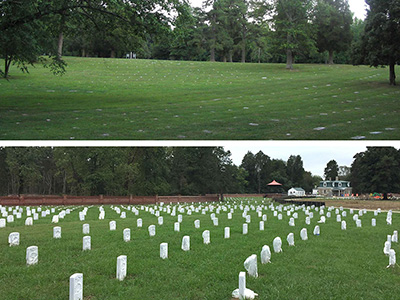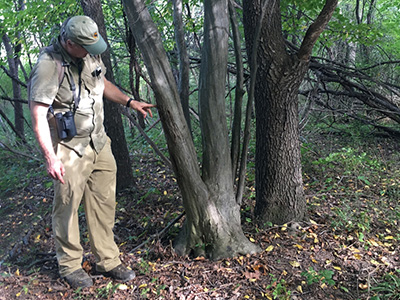 Gettysburg National Cemetery, Gettysburg, Pennsylvania
Simulation by CCLP research assistant Chris Anderson of proposed treatment for the main entrance gates, 2016. The simulation illustrated one of the treatment recommendations in a cultural landscape report for the cemetery.
Students, ESF faculty, and NPS staff participants
Eleanor Roosevelt National Historic Site, Hyde Park, New York: Students, ESF faculty, and NPS staff participants in final review of cultural landscape preservation studio at ESF, 2008. The studio produced design concepts for the restoration and rehabilitation of the historic landscape as part of a cultural landscape report.
ESF students in Landscape site
Chancellorsville Battlefield, Spotsylvania, Virginia: ESF students in a landscape architecture studio being introduced to the site by NPS park staff, 2015. The studio produced design concepts for the historic battle held as part of treatment recommendations for a cultural landscape report prepared through the CCLP.
Erie Canal National Heritage Corridor, Port Byron, New York
CCLP Research assistant Nate Ogdahl on a site visit with ESF and Canal Society of New York State staff, 2010. Nate produced a digital model of proposed site improvements as part of a research project for the Canal Society completed through the CCLP.
Muir Woods National Monument, Mill Valley, California
CCLP Research Assistant Haichao Wang with CCLP Co-Director John Auwaerter and NPS Olmsted Center Director Bob Page, 2014. The inventory done that summer was part of a cultural landscape report developed through the CCLP.
Poplar Grove National Cemetery, Petersburg, Virginia
Reconstruction in 2016 of the historic upright Civil War headstones that were laid flat by the NPS in the 1930s. This recommendation was part of a comprehensive treatment plan for rehabilitation of the historic Civil War-era national cemetery produced by the CCLP through a cultural landscape report completed in 2009.
Dr. James Gibbs of the SUNY ESF
Harriet Tubman National Historical Park, Auburn, New York: Natural resource assessment with Dr. James Gibbs of the SUNY ESF Department of Environmental and Forest Biology, 2016. The assessment was undertaken as part of existing conditions documentation for a cultural landscape report being developed through the CCLP.
We acknowledge, with respect, the Onondaga Nation, firekeepers of the Haudenosaunee, the indigenous people on whose ancestral lands SUNY ESF and Syracuse University now stand. We give thanks that they are here, stewarding this land.
News and Updates
Spring 2022
What are your plans for the summer? Stay tuned on our social media for more information and ways to get involved!
For more information about how to get involved check our opportunities page.
Historic Preservation and Oakwood Cemetery Lecture Recordings Now Available!
Over the past Spring semester, the ESF Friends of Oakwood and CCLP hosted a spectacular virtual lecture series on Historic Preservation and Oakwood Cemetery. You can view the recordings of these lectures here: