SHARE:
NY Sea Grant Building Partnerships at ESF
Research spans fisheries, invasive species, coastal tourism

10/21/2011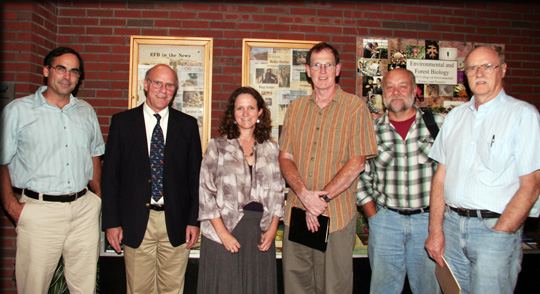 The associate director of New York Sea Grant (NYSG), Dr. Kathy Bunting-Howarth, visited ESF this fall for a presentation about NYSG's 40 years of "Bringing Science to the Shore."
"This presentation is an opportunity to introduce Sea Grant to a new generation of researchers, students, policymakers and anyone making decisions about the resources of New York's coastlines," Bunting-Howarth said.
Her visit was co-sponsored by the ESF departments of biology and chemistry and the Great Lakes Research Consortium, which is directed by Dr. Gregory Boyer, chair of the ESF Department of Chemistry. Boyer introduced Bunting-Howarth's presentation as a foundation for "future collaborations between Sea Grant and ESF."
Bunting-Howarth, who directs the extension arm of NYSG, said NYSG began in 1971 as a collaboration by SUNY, Cornell University and the National Oceanic and Atmospheric Association.
"This Sea Grant program is also hyper-regional, encompassing New York's Great Lakes, Northeast and Mid-Atlantic geography," Bunting-Howarth said. "We strive for projects that utilize extension to put the results of unbiased, science-based research into communities to help them address their issues."
NYSG's research spans such diverse focus areas as fisheries, invasive species, coastal environmental quality, coastal tourism and social science impacts.
"New York Sea Grant conducts research that can be directly applied in the coastal setting by those planning for the next four to 40 years," said Bunting-Howarth.
Bunting-Howarth recognized ESF, the University of Buffalo, Buffalo State, SUNY Oswego, the SUNY College at Brockport, Clarkson University and Cornell University researcher-led NYSG projects dating from NYSG's early years through today. Those projects include under-ice research in Lake Erie, saltwater and freshwater sportfisheries research, and social science impact assessments.
She applauded NYSG Coastal Recreation and Tourism Specialist Dave White for the BoatUS Foundation award-winning Discover Clean and Safe Boating initiative that includes an invasive species emphasis. White's ESF Career Alternatives in Natural Resources Management class attended the presentation and a reception for Bunting-Howarth. White said, "These types of interactions with science and extension professionals are great learning experiences for students considering career opportunities."
"How people interact with our ecological systems is a focus on the national level and for New York Sea Grant. We will soon have the results of a survey evaluation by ESF's Dr. Diane Kuehn of angler motivations influencing the bass fishing industry," Bunting-Howarth said.
"Enhancing Great Lakes literacy is one of our goals. New York Sea Grant's Coastal Education Specialist Helen Domske is part of a partnership with ESF, the USEPA and the Centers for Ocean Sciences Education Excellence that trains teachers aboard the USEPA Research Vessel Lake Guardian. ESF's Greg Boyer serves as chief scientist aboard the teaching cruises that are training those influencing the next generation of stakeholders," she continued.
Bunting-Howarth said Boyer's work on aquatic cyanobacteria, toxins in algae, and drinking water impact is some of the research focused on coastal environment contaminants.
Dr. Donald Leopold, chair of ESF's Biology Department, said, "We invited Kathy to speak as part of the Department of Environmental and Forest Biology Adaptive Peaks
Seminar Series that gets students thinking in innovative ways about new directions to go for career opportunities. The series also lets them see how people package science for presentation to public audiences."
"New York Sea Grant's work is very important to ESF," Boyer said. "We share an interest in protecting the environment as the lifeblood of the economy in New York State."
Recent ESF News
News Archives
Communications & Marketing
SUNY-ESF
122 Bray Hall
1 Forestry Drive
Syracuse, NY 13210
315-470-6644