SHARE:
USCAA Honors ESF's Cuddihy
Freshman earns Player of Week honors

10/31/2011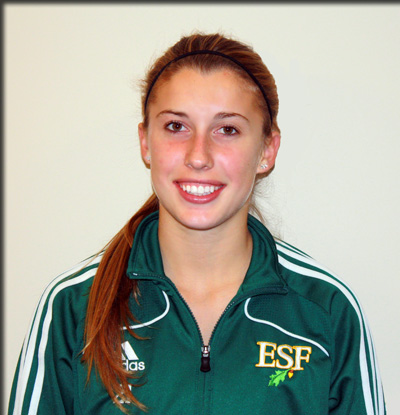 ESF freshman Bridget Cuddihy, a member of the Mighty Oaks women's soccer team, has earned Player of the Week honors from the U.S. Collegiate Athletic Association.
Cuddihy had her third hat trick of the season last week in a 5-0 win over SUNY Delhi. Cuddihy has 15 goals this season for the Mighty Oaks, placing her fifth among the USCAA scoring leaders.
Cuddihy is an environmental science major from Cambridge, N.Y.
Recent ESF News
News Archives
Communications & Marketing
SUNY-ESF
122 Bray Hall
1 Forestry Drive
Syracuse, NY 13210
315-470-6644