SHARE:
ESF, ReEnergy Collaborate on USDA-Funded Willow Program
Funding encourages growth of willow as agricultural crop

6/13/2012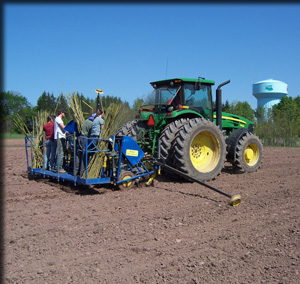 The U.S. Department of Agriculture (USDA) is investing $4.3 million to encourage the growth of shrub willow as a renewable energy fuel in Central and Northern New York.
The willow will be grown on marginal farmland throughout the region and used as fuel for biomass-to-energy facilities in the region that are owned by ReEnergy Holdings LLC.
Critical to the project is a collaboration between ReEnergy and the SUNY College of Environmental Science and Forestry (ESF) in Syracuse, which will offer an outreach program to educate local government officials, agricultural leaders, farmers and landowners about the opportunity to grow willow.
"This support from the USDA highlights SUNY's ability to act as an economic engine in New York," said ESF President Cornelius B. Murphy, Jr. "ESF scientists have invested 25 years of research in the development of shrub willow as a sustainable resource for bioenergy and other bioproducts. We're now bringing that research to fruition as we increase our energy independence, reduce our carbon footprint and provide an opportunity for jobs for the people of Central and Northern New York."
The funds will be made available from the USDA's Biomass Crop Assistance Program (BCAP), which helps renewable energy companies and farmers manage the risk of developing new crops like willow for power, heat and fuel. BCAP will provide up to 75 percent reimbursement of willow establishment costs and annual rental payments for the term of the program.
The main goal of this project is to demonstrate a complete willow biomass production system on a commercial scale.
"ReEnergy is very excited to be enhancing its collaboration with researchers at SUNY-ESF and the agricultural community," said Larry Richardson, Chief Executive Officer of ReEnergy
Holdings. "Through this kind of collaboration, the new technology that has been developed can be utilized here locally, and we get the benefit of broadening the availability of additional renewable fuels while also creating jobs and improving the regional economy by supporting local farmers and landowners. We thank the USDA and our federal officials for helping us support a more sustainable, energy independent, environmentally sound future for Central and Northern New York. "
ReEnergy Holdings LLC owns and operates facilities that use biomass and waste residues to produce renewable thermal and electric energy. ReEnergy employs 260 people in New York, Maine, Connecticut and New Hampshire, and generates 240 megawatts of energy. ReEnergy owns three biomass-to-energy facilities in New York's Northern region: A 22-megawatt biomass facility in Lyons Falls, NY (ReEnergy Lyonsdale); a 20-megawatt biomass facility in Chateaugay, NY (ReEnergy Chateaugay); and a 60-megawatt facility at Fort Drum near Watertown, NY that is being converted to utilize biomass as a fuel (ReEnergy Black River). In advance of this program, ReEnergy Lyonsdale completed successful test burns with willow biomass last year.
"What makes this project unique," explained Dr. Timothy Volk, co-director of the SUNY Center for Sustainable and Renewable Energy based at ESF, "is that it is an investment in a renewable energy system in the region that will go directly to producers who will be commercializing willow biomass crops."
Michael Buckley, Regional Director - Asset Management for ReEnergy Holdings, has been working with ESF to develop the program. "I look forward to working with ESF and the local USDA representatives to set the stage for a successful program," he said.
Under this program, qualified farmers and landowners will have funding help to plant the shrub willows, technical advice and oversight from experts and a guaranteed buyer when the willow crop matures.
The project involves the planting of 3,500 acres within an eligible region that spans nine counties (Clinton, Essex, Franklin, Herkimer, Jefferson, Lewis, Oneida, Oswego and St. Lawrence). ReEnergy will purchase the harvested willow and use the biomass to produce energy at its biomass-to-energy facilities. The funding will be administered through USDA offices in the nine counties.
Over the 11-year life of the project, it is expected that almost 400,000 green tons of biomass will be produced and used in the ReEnergy facilities. The willow, which can be harvested every three years, will have the potential to continue producing biomass for at least another decade after the program was completed.
It is estimated that the project will create about 26 jobs in addition to direct employment at the ReEnergy plants.
Opportunities for potential producers to sign up for the program in their USDA offices in each county will start as soon as the week of June 18 and the opportunity for involvement will close Sept. 14. Producers will need to establish supply agreements with ReEnergy Holdings and will be required to meet certain qualifications, such as minimum acreage, to ensure smooth functioning of the willow supply operation. Interested landowners can contact bcapinfo@reenergyholdings.com to be placed on a mailing list.
"This partnership between SUNY-ESF and ReEnergy of our North Country is a true win-win that's good for farmers, the clean energy revolution and jobs in upstate," said Senator Charles Schumer. "Working with our farmers, SUNY-ESF will pound the pavement of Central and Northern New York educating farmers who have marginal land ready to harvest. In turn, ReEnergy will use the energy across its facilities to power up the North Country grid, creating a wood biomass cultivation model the rest of the country will learn from. I was happy to support ReEnergy's early efforts in the North Country and look forward to seeing other biomass-to-energy facilities replicate this model across the country."
"This is a tremendous investment for New York's North Country," said Senator Kirsten Gillibrand. "Investing into the growth of shrub willow biomass crops as a renewable energy fuel will not only be good for the environment, it will create and sustain jobs in Central and Northern New York."
"This project will help us to utilize New York's tremendous forest resources and has great potential to provide clean energy for the region and put New Yorkers back to work," said Rep. Bill Owens. "Funding provided today by the USDA is a sound investment in our area, and I look forward to seeing this project implemented quickly and efficiently."
"This is an exciting opportunity to demonstrate fast growing wood biomass cultivation on a commercial scale," said Charlie Niebling, general manager of New England Wood Pellet and President of the New York Biomass Energy Alliance, a statewide trade organization. "New York has an abundance of marginal farmlands that can be put to productive use helping America produce homegrown and renewable energy, while helping to restore our rural economy."
Recent ESF News
News Archives
Communications & Marketing
SUNY ESF
122 Bray Hall
1 Forestry Drive
Syracuse, NY 13210
Communications@esf.edu