SHARE:
SUNY-ESF Feinstone Award Celebrates Conservation
Lewis County couple honored for conservation efforts

10/25/2012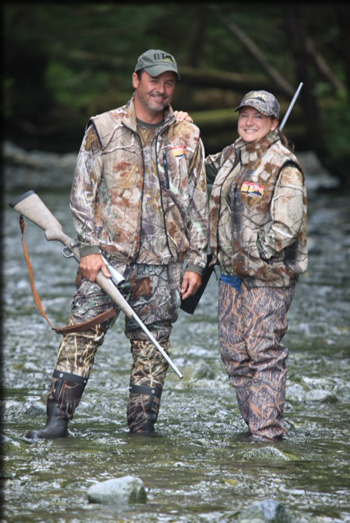 The SUNY College of Environmental Science and Forestry (ESF) will celebrate conservation during its 2012 Feinstone Environmental Awards dinner Oct. 25.
Jody and Doreen Garrett, who manage a private preserve in Chaumont, will receive the Feinstone Award. The Garretts are true outdoor enthusiasts as they incorporate environmental conservation into their personal and professional lives.
Jody began hunting and trapping at the age of 10, spending hours hauling nets and fishing with his grandfather, a commercial fisherman. In 1981 he graduated from the University of Idaho with a wildlife management degree. Today, Jody is president and owner of the Overhead Door Company of Watertown.
Doreen founded Otis Technology at the age of 16. Otis, located in Lyons Falls, manufactures Breechto-Muzzle' firearm cleaning systems and accessories developed for the military, competitive marksmen and hunters.
The Garretts manage the 2,000-acre Lucky Star Ranch in Chaumont. It has become a gateway for the Garretts to share their passion through affiliations such as the National Rifle Association, Quality Deer Management Association, Wounded Warrior Project and various other community organizations.
In 2011, ESF scientists and students visited Lucky Star Ranch to conduct a bioblitz, a significant event for the college where plant, animal and fungus species were inventoried over a span of 24 hours.
The award will be presented during a dinner at the Gateway Center on the SUNY-ESF campus. The awards program is expected to begin at 8:30 p.m.
The dinner's keynote speaker will be David Crockett, former director of the Office of Sustainability in Chattanooga, Tenn. His remarks are titled "Stewards of the New Frontier: Sustainability, Conservation, Wildlife Management."
A three-term city councilman for the City of Chattanooga and president of the Chattanooga Institute for Sustainability, Crockett was appointed as director of the newly created Chattanooga Office of Sustainability in 2009. As director he oversaw a dozen task forces focusing on issues ranging from urban food production to green infrastructure and clean energy.
Crockett stepped down from the director's position in 2012. He is currently an associate of the Citistates Group, and serves as a consultant and speaker on economic development and sustainability both nationally and internationally.
An avid outdoorsman, Crockett is the great-nephew of the famous frontiersman. Crockett has been called an "eco-pioneer" and has been credited as a visionary taking a practical approach toward sustainability.
Master of ceremonies for the event will be David Eichorn, a meteorologist with more than 30 years experience. Eichorn was formerly with WSYR-TV Syracuse for 20 years specializing in lake effect snowstorms and atmospheric patterns which produce them. He now holds adjunct positions at ESF, SUNY Oswego and Onondaga Community College, teaching introductory meteorology, advanced forecasting, and broadcast meteorology.
The Feinstone Awards program was established by Sol Feinstone, a widely known historian and author who was a 1915 graduate of ESF. His goal was to reward people and organizations that exemplified his belief that the best insurance for a free society lay in people's desire to do voluntarily the things that need to be done for the good of all.
The program recognizes leaders who care for the environment, encourage volunteerism and add to society's understanding of environmental issues and their solutions. The Feinstone program has made more than 100 awards, honoring people from across the United States for their significant contributions to protecting the environment and promoting the spirit of volunteerism.
Recent ESF News
News Archives
Communications & Marketing
SUNY-ESF
122 Bray Hall
1 Forestry Drive
Syracuse, NY 13210
315-470-6644