SHARE:
Blood Drive, Marrow Registry Event Honor ESF Student, Professor
Events set for Tuesday and Wednesday in Alumni Lounge

11/12/2012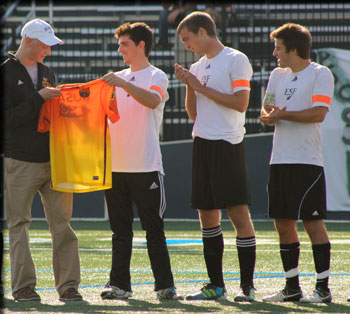 ESF will host a blood drive and bone marrow registry drive this week to honor two members of the campus community and provide assistance to the many people who need blood transfusions and/or bone marrow transplants.
The drives will be Tuesday and Wednesday, Nov. 13 and 14, in honor of Kevan Busa, a senior in the Department of Landscape Architecture who is undergoing treatment for leukemia, and the late Dr. Guy Baldassarre, a Distinguished Teaching Professor in the Department of Environmental and Forest Biology. Dr. Baldassarre died Aug. 20 from complications of chronic lymphocytic leukemia.
Dr. Baldassarre had been a member of the college community since 1987, when he joined the faculty.
He taught wildlife ecology and management, ornithology, and ecology and management of waterfowl. He was dubbed "The Waterfowl Ambassador" by Outdoor Life magazine, which recognized him in 2009 as one of 25 people who have changed the face of fishing and hunting.
"While we can never repay Dr. Baldassarre for his contributions to the college, we can support two organizations that help save lives of people like him," said Liz Mix, ESF Community Service and Service-Learning coordinator.
Busa is a former member of the Mighty Oaks men's soccer team. He joined the team for the second annual Barkeater Cup match at Onondaga Community College this fall and was presented with an honorary captainship. The Mighty Oaks went on to win the game 1-0. He recently shared this message with the campus community:
"It was two weeks after finishing the spring semester when I found out that I was diagnosed with leukemia. Being a fellow ESF student I have gone through a lot this summer and the worst is not being in school this semester. Bone marrow/blood drives are important for the community to stay involved in because they help save countless lives.
"I am still in Buffalo recovering from my bone marrow transplant this fall semester. I got a match for my marrow and was able to continue with the process. There are so many families out there that don't have a match and are waiting day by day for more people to donate. To join the bone marrow registry, there is no pain involved. They will just swab the inside of your mouth when you come to donate and if they find you are a match they will draw blood. It's really simple and the bone marrow bank is getting bigger by the day. Helping other people is one of the best feelings.
"I have gotten blood drawn every day in the hospital and it's weird but I think there is a green tint to my blood. I hope you can find some time in your day and donate, to help save a life in the future. Thank you and see you in the springtime!"
Busa's ESF soccer teammate Adrian Wiegman, a senior environmental studies major, said the team looks forward to supporting Busa during the blood and marrow drives.
"I am happy that ESF is hosting this event for Kevan," Wiegman said. "And it's really important to our team to be able to participate in this event and support him in this way."
The blood drive will be 10:30 a.m. to 3:30 p.m. Tuesday, Nov. 13, in Alumni (Nifkin) Lounge. Advanced signup is encouraged at the Red Cross website but walk-ins are welcome.
The bone marrow donor registry event will be 9 a.m. to noon Wednesday, Nov. 14 in Alumni (Nifkin) Lounge.