SHARE:
Reicher, Wilson to Speak at NYS Green Building Conference
Energy technology, climate change, resilient design

1/22/2013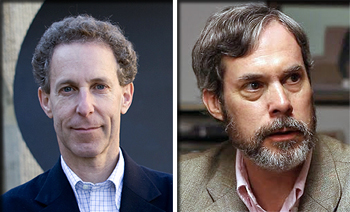 The 11th Annual Green Building Conference hosted by the SUNY College of Environmental Science and Forestry (ESF) will feature two experts on energy technology, climate change and green building. Dan Reicher and Alex Wilson will be the featured speakers at the two-day conference in Syracuse, March 11-12.
Reicher is executive director of the Steyer-Taylor Center for Energy Policy and Finance at Stanford University, a joint center of the Stanford Law School and Stanford Graduate School of Business, where he also holds faculty positions.
Reicher has more than 25 years of experience in energy technology, policy, and finance, including serving in the Clinton administration at the Department of Energy as assistant secretary for energy efficiency and renewable energy and recently as a member of President Obama's Transition Team. Before Stanford University, he worked at Google as director of climate change and energy initiatives. Reicher received an Honorary Degree of Humane Letters from ESF in 2012.
Wilson is a widely published writer and an instructor with Boston Architectural College's Sustainable Design Institute and the executive editor of Environmental Building News and the GreenSpec Product Directory. He has written hundreds of articles on green building, energy, the environment and resilient design.
Wilson served on the national board of the U.S. Green Building Council from 2000 through 2005 and received the organization's 2008 Leadership Award for Education. In 2010, he received the Hanley Award for Vision and Leadership in Sustainable Housing. He founded the Resilient Design Institute, a nonprofit organization focused on resilience and adaptation to climate change in 2012.
The Green Building Conference will take place March 12 at the Oncenter in Syracuse. There will be a pre-conference workshop on the planning, design and construction of ESF's new Gateway Center and a Student Leadership Summit at the Gateway Center March 11. The conference serves as a forum for green building research and development, best practices, and discussions on green building science and operation and maintenance, as well as an opportunity to network with other green building experts, professionals, and researchers.
The conference is hosted by ESF in partnership with the U.S. Green Building Council New York Upstate Chapter and the Syracuse Center of Excellence in Environmental and Energy Systems (Syracuse CoE)
For updates and future information, visit the conference website.
Recent ESF News
News Archives
Communications & Marketing
SUNY-ESF
122 Bray Hall
1 Forestry Drive
Syracuse, NY 13210
315-470-6644