SHARE:
College Book Store Opens in Gateway Center
Store anchors south concourse

3/29/2013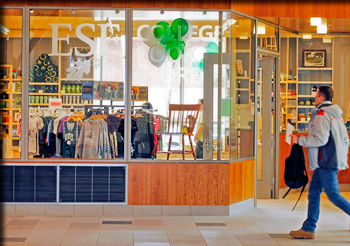 ESF's new College Book Store opened for business March 29 in a bright, airy corner on the concourse of the Gateway Center.
A stream of students, faculty and staff members immediately began flowing through the store, perusing an array of ESF apparel, school supplies and gift items, including the college's own maple syrup from Heiberg Forest.
"I'm glad the bookstore was given an opportunity to move out of the basement of Marshall Hall," said junior landscape architecture major Nick Lee. "This is definitely more inviting."
The store is at the south end of the concourse, closest to Jahn Laboratory. Hours will be 9 a.m. to 2:30 p.m. through the rest of the spring semester; they will likely change during the summer.
For more information and their online catalog, visit the College Book Store website.
Recent ESF News
News Archives
Communications & Marketing
SUNY-ESF
122 Bray Hall
1 Forestry Drive
Syracuse, NY 13210
315-470-6644