SHARE:
Music and Comedy Highlight Coffee Haus at ESF
Honor society sponsors social event

10/9/2013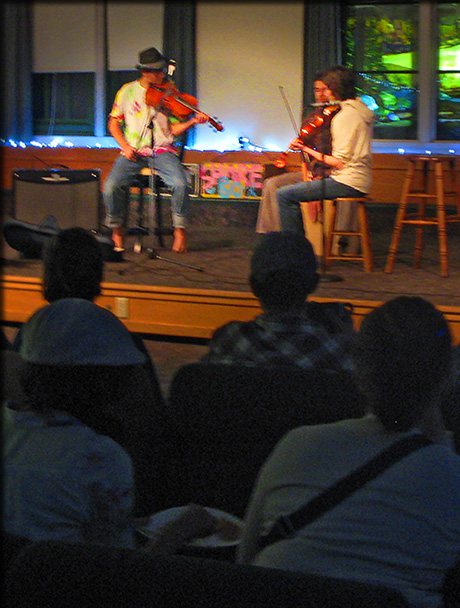 Approximately twice per semester, the lights in Alumni (Nifkin) Lounge are dimmed and small holiday lights are placed around the room to set the mood for an ESF Coffee Haus. Students and faculty gather to watch an evening of performances and socialization. Sponsored by the Alpha Xi Sigma Honor Society (AXS), each Coffee Haus invites the campus community to a free event with food and talent.
The Coffee Haus held Friday, Oct. 4, was unique because it was the weekend of the 2013 Alumni & Family Fall BBQ so the ESF campus was filled with visiting alumni and students' family members. The event drew a standing-room-only crowd.
Coffee Haus events are planned by the co-vice presidents of AXS, Michelle Pleim and Chelsea Stern. Holding the event during the annual fall weekend provided an opportunity to showcase talent before a different audience, said Stern. "Many parents are visiting. A lot of first-year students come with them," she said. "Parents want to see what the campus has to offer."
This time, all the performers were students although in the past faculty members have come to sing or perform in a group. The ESF Music Society has helped to shape the Coffee Haus, according to Brigitte Moneymaker, AXS president. The music society's two main groups, Spruced Up Folk, a folk band, and Ecotones, an a cappella group, performed at the October event along with a comedy magic act, several guitarists and a hip-hop/rap performer. There was also an improvisational violin, viola, and cajón group.
"It's a really relaxed environment," said Stern. "It's very informal. It really does feel like a coffee house with an open mic." Any student can perform or attend, and people are always surprised that the event is free, said both Stern and Moneymaker.
"There is no shortage of talent on this campus," said Moneymaker. The talent varies at each Coffee Haus and most participants perform at more than one. Stern said there have been dancers and poets in addition to the musical acts.
"Participating in front of a nonjudgmental audience, they get experience. It's a way to express themselves," said Stern.
"I think it's more of us trying to benefit the community [with] free food, entertainment. I think it helps with the vibe on campus. It also helps people to know about our club on campus," said Stern. AXS attempted to especially reach out to first-year students for this event, since it was Alumni & Fall Family BBQ Weekend. They focused their advertising in Centennial Hall and the first-year class page on Facebook in addition to their tabletop advertisements in Moon Library and the Gateway Center.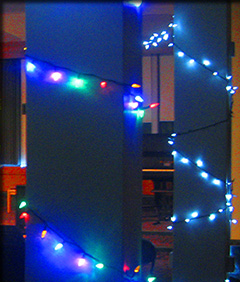 "Lately we've been using [Coffee Haus] as a means to get people together and fundraise," said Moneymaker. AXS raises no money for its own benefit, since the club's focus is academic excellence and community involvement, Moneymaker said. The club has identified the Rescue Mission, a local center to help end hunger and homelessness, as the main recipient this semester.
AXS members gave henna tattoos to Coffee Haus attendees for making donations. Dinosaur Barbeque donated a $40 gift card, which was a door prize to benefit the Rescue Mission as well. Almost $200 was raised overall.
To join AXS, students must have completed at least one ESF semester with a 3.175 GPA. First-year students and transfers can be invited after their first semester, and then students must maintain that GPA. All members must complete at least 20 community service hours per semester.
With more than 150 active members, AXS is always looking for more volunteer and community outreach opportunities. They are working on pathway clearing with the Thornden Park Association and helping at Clark Reservation State Park. AXS is also working with the Westcott Library and Matthew 25 Farm, a not-for-profit organization that grows produce.
The members make the Coffee Haus happen, said Moneymaker. "It's 100 percent member driven. People show up early, bake food and stay late to clean up," she said.
The Coffee Haus was a great way to share the ESF community with those visiting, according to Stern. "The feel of Coffee Haus itself relates to ESF - how you know a lot of the performers, and it's much more relaxed in that sense. Either you know someone or a friend of someone," said Stern.
The next Coffee Haus will be 7 p.m. Thursday, Nov. 7, in Alumni (Nifkin) Lounge.
- By Alison Gibson ESF '15
Recent ESF News
News Archives
Communications & Marketing
SUNY-ESF
122 Bray Hall
1 Forestry Drive
Syracuse, NY 13210
315-470-6644