SHARE:
New SUNY Chancellor Visits ESF
Dr. Nancy Zimpher met with administrators, faculty, staff and students

7/17/2009
The video originally included in this story is no longer available via this page. Contact web@esf.edu if more information is required.
Copyright © All Rights Reserved by copyright holder
"I have had a wonderful day today. I have had so much substance that I need course credit now," said SUNY Chancellor, Nancy Zimpher, after her daylong meetings Thursday, July 16, 2009, with ESF administrators, faculty, staff and students as part of her tour of all 64 SUNY campuses.
Dr. Zimpher said not only are these campus visits an opportunity for her to introduce herself as the new leader of the SUNY system but a chance for some hands-on experience at each campus so she can be a stronger advocate in Albany. Thursday's visit to ESF was campus number 28.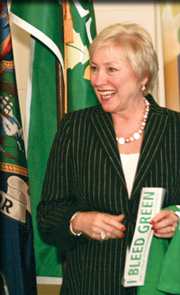 Members of the ESF Board of Trustees, Foundation Board and Alumni Association Board also met with the chancellor.
At the end of the day, members of the Metropolitan Development Association and the University Hill Corporation joined in a reception for the chancellor held in the Bray Hall rotunda.
Recent ESF News
News Archives
Communications & Marketing
SUNY-ESF
122 Bray Hall
1 Forestry Drive
Syracuse, NY 13210
315-470-6644