SHARE:
13th Green Building Conference Set March 12, 13 in Syracuse
Events Set for Syracuse-Liverpool Holiday Inn

3/9/2015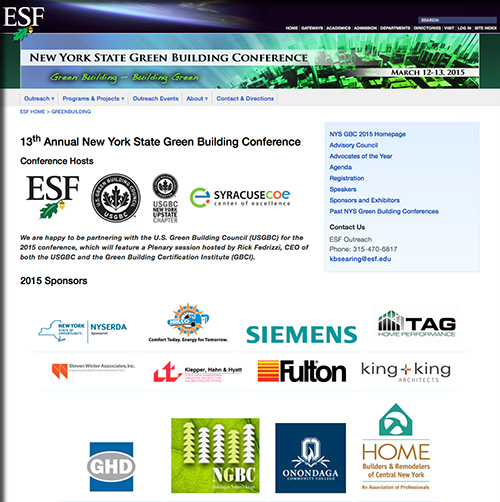 ESF and partner organizations will sponsor the 13th annual New York State Green Building Conference in Syracuse March 12 and 13.
Each year, the professional conference draws hundreds of attendees to learn about green building research and development, and to participate in discussions on green building science, construction, operation and maintenance. The conference also provides an opportunity to network with other green building experts, professionals and researchers. The conference is hosted by ESF in partnership with the USGBC along with the USGBC New York Upstate Chapter and the Syracuse Center of Excellence.
Events begin with a pre-conference workshop 12:30 to 4:30 p.m. Wednesday, March 11, at the Gateway Center on the ESF campus. The topic is "Zero Energy Ready Home Training: Is the Housing Market Ready for Zero Energy Ready Homes?" Speakers will be Sam Rashkin, chief architect for the Department of Energy's Building Technologies Office, and Kevin Stack, founder and CEO at Northeast Natural Homes, Inc.
A pre-conference reception 4:30 to 6:30 that evening at the Gateway Center will include the unveiling of the USGBC plaque that denotes the Gateway Center as a Leadership in Energy and Environmental Design (LEED) Platinum-certified building.
Conference events Wednesday and Thursday, March 12 and 13, will be at the Syracuse-Liverpool Holiday Inn.
One of the highlights of this year's event will be a keynote presentation 10:30 a.m. to noon March 12 hosted by Rick Fedrizzi, chief executive officer of both the USGBC and the Green Building Certification Institute. The topic will be "360 Performance: From Design to Day-to-Day," and will focus on how to measure the performance of green buildings and manage the factors involved in construction to reach the next level in green building performance. Fedrizzi will be joined by Scot Horst, chief product officer with the USGBC and Chris Pyke, chief operating officer for Global Real Estate Sustainability Benchmark.
The closing keynote for March 12 will be presented by Chief Oren Lyons of the Turtle Clan, and Onondaga Nation Faithkeeper. He will speak from 4 to 5 p.m.
The keynote presentation March 13 will be "'0' in '3'" by Sam Rashkin, chief architect for the Department of Energy's Building Technologies Office. He will speak about making the transition to zero energy-ready homes. He will speak 9 to 10:15 a.m.
Sessions Wednesday and Thursday, March 12 and 13, will focus on topics including high-performance buildings, green healthcare facilities, resiliency and biomimicry, green materials and resources, and deconstruction. Other topics are building science; living on an energy budget; urban design, planning and community development; renewable energy; indoor air quality; higher education high-performance buildings; N.Y. state energy code; and LEED v4.
There will also be a LEED Certification Work Zone March 13, which will provide attendees with an opportunity to meet one-on-one with LEED project reviewers to discuss questions about specific projects or LEED requirements in general. It will be held 10:45 a.m. to 12:50 p.m. and again 2:15 to 4:20 p.m.
The mission of the New York State Green Building Conference is to promote, educate and support green building design, construction and processes.
Recent ESF News
News Archives
Communications & Marketing
SUNY-ESF
122 Bray Hall
1 Forestry Drive
Syracuse, NY 13210
315-470-6644