SHARE:
SUNY Honors ESF Student Excellence
Two seniors receive Chancellor's Awards

3/30/2010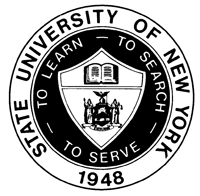 SYRACUSE - Two students from the SUNY College of Environmental Science and Forestry (ESF) were honored with the Chancellor's Award for Student Excellence.
As part of the award, Lynne Beaty of Geneseo and Kelly Klingler of Webster will receive framed certificates and medallions, which may be worn at commencement.
Chancellor Award honorees excel both in academic achievement and in at least one of the following areas: leadership, athletics, community service, creative and performing arts or career achievement.
Beaty is an environmental and forest biology major. She is the treasurer for ESF's Honor Society Alpha Xi Sigma and was named to the President's High Honor List for six semesters. She won a Cranberry Lake Biological Station Undergraduate Research Fellowship and was chosen to attend 2010 Marine Resources Population Dynamics Workshop. She serves as a teaching assistant for zoology, wildlife technique and comparative vertebrate anatomy classes.
Klingler is an environmental and forest biology major. She is part of the upper Division Honor's Program, completed a 10-week National Science Foundation internship in Costa Rica, is a member of Alpha Xi Sigma, received the 1951 Alumni Award and was a recipient of the New York Water Environment Association (NYWEA) scholarship.
Recent ESF News
News Archives
Communications & Marketing
SUNY-ESF
122 Bray Hall
1 Forestry Drive
Syracuse, NY 13210
315-470-6644