SHARE:
The Cheer Fun of It
ESF student leads SU cheer team

2/4/2016
Copyright © All Rights Reserved by copyright holder
The thrill of being "the Big S" is Taylor Della Rocco's favorite part of being a member of the Syracuse University cheer team.
"It's wonderful because you know you're leading out your entire team and you get this adrenaline rush," said the ESF senior, describing what it feels like to run around the Carrier Dome's famed Jim Boeheim Court with the flag bearing SU's signature "S." "You know every time you may be doing the same thing, but you have a different crowd and different people that you're going to motivate."
"Also when we run around the court and you stop and you stand on the middle of the S (on the court) and you take your Big S flag and wave it around and that thrill of looking around and see all these people cheering and yelling it's just so motivating and it's awesome. You feel great and I love it."
Della Rocco, an environmental science major with a focus in watershed science and a minor in forestry, has been a member of the SU cheer squad since his sophomore year.
"When I first came to ESF, I was determined to be a cross-country runner," he said. After running his freshman year, though, he found it was "really, really competitive" - more so than he felt he was suited for - so he started looking for other athletic pursuits.
A chance meeting his freshman year in the dining hall presented the right opportunity. "A very attractive young lady come up to me and said, "What sport do you do?" and I said, "I'm a cross-country runner." She told him she knew a better sport for him but didn't want to tell him. She simply wanted him to come to tryouts and see if he could make it.
"And I said, 'What is it, some ridiculous sport like cheerleading?'"
In an effort to get her to take his phone number, Della Rocco told her if she texted him the day of tryouts and he was available, he would go.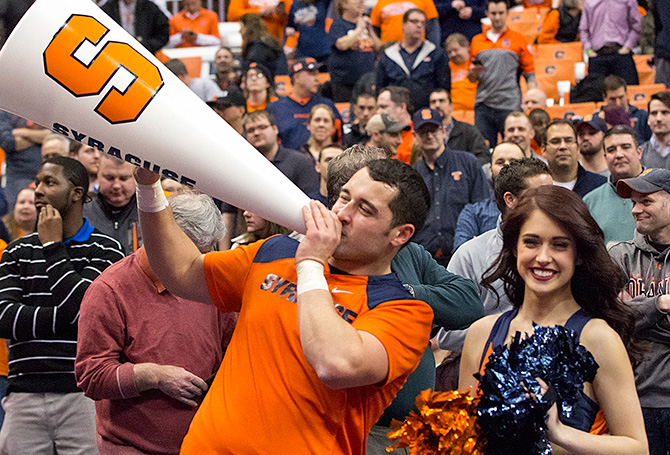 Although he had no previous cheer experience, Della Rocco had performed as the bulldog mascot at Berne-Knox-Westerlo High School and in musicals, giving him a background in lifts and getting crowds motivated. SU Head Cheer Coach Dena Segbers liked his enthusiasm and ability to pick up the routines quickly and Della Rocco made the team.
Now in his senior year, Della Rocco is captain of the cheer team and the enthusiasm that landed him a spot on the team is evident when he talks about cheering.
"I love the atmosphere," he said. "I love to try to motivate people. Personally I'm an energetic, positive person and if I can spread that to more people I think I'm doing something that's good and it makes me feel successful."
As captain, Della Rocco works with the whole team. "My main goal is to keep everyone motivated, on time, working hard, staying focused," he said. "I'm in charge of making sure everyone's OK, leading volunteering efforts for the team and organizing volunteering efforts for the team."
"I love what it does for me. I get to interact with Syracuse University students and the Syracuse community, I get to go to all the games - so that's a big plus."
The SU Cheer Team cheers for football and basketball seasons with each sport having its own energy.
"At football games you're more on the field, so you're more interactive with the game," he said. Because the squad has to watch out for the players as they run into the sidelines "there's a lot more close interaction with the players." With the football fans seated higher and behind a fence, he said it can be harder to get them involved but the squad works hard and gets the crowd cheering.
At basketball games, the squad is directly in front of the fans creating a strong connection. "Basketball's really cool because you get to interact with the fans a lot," he said. "I get to give them high fives, talk to them and get them really pumped up and then I can see that ripple all the way back through the crowd. "
The team also competes on its own, recently returning from the Universal Cheerleading Association National Championships in Orlando, Florida. For the first time in the squad's history, the team advanced to the finals where it placed 11th.
Being a cheerleader at SU doesn't keep Della Rocco from being heavily involved in life at ESF. He's been an Orientation Leader and mentor for three years, served on student government since his freshman year, first as a student senator for environmental science and most recently as programming co-chair coordinating events that focus on having students interact not only with each other but also ESF faculty. He's also worked in the college's Syracuse Asbestos Laboratory Testing Service (SALTS lab).
After graduation Della Rocco hopes to become an environmental conservation officer. "That's been my main goal since my junior year in high school," he said. Because the exam for conservation officers is only offered every five to six years, Della Rocco plans to work either with soil and water conservation or in a position that works to lessen the environmental impact of farming.
"I grew up on farm so I know the need for farmers and want to support them best I can," he said. "I want to try to improve the environment with farming, because a lot of times farmers may not know about the environmental impact their practices have so I want to improve that."
Recent ESF News
News Archives
Communications & Marketing
SUNY-ESF
122 Bray Hall
1 Forestry Drive
Syracuse, NY 13210
315-470-6644