SHARE:
East Syracuse Man Presents Military Flag to SUNY-ESF
Afghanistan veteran and ESF alumnus Robert J. Schug

1/23/2008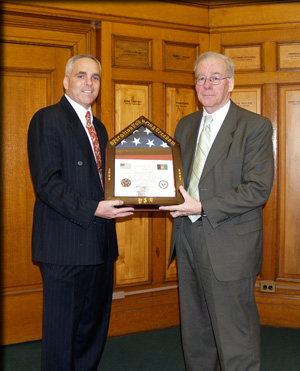 SYRACUSE, N.Y. — East Syracuse resident Robert J. Schug, who spent a year in Afghanistan with the U.S, Navy Reserve, presented his alma mater with a United States flag that flew over Camp Blackhorse on the fifth anniversary of the September 11 attacks.
Schug, a lieutenant commander in the Reserve, presented the flag to SUNY College of Environmental Science and Forestry (ESF) President Cornelius B. Murphy Jr. on the ESF campus Jan. 17.
A 1985 graduate of the college, Schug began his career in technical sales service with Westvaco Corp. and now works with his family printing business, Cayuga Press of Cortland.
Schug was a lieutenant commander in the U.S. Navy Reserve when he was called up to serve in Afghanistan. He was assigned to an embedded training team at a Camp Blackhorse, about 10 miles east of the capital city of Kabul. He joined members of the other armed forces in training the Afghan army to be self-sufficient.
The base is close to the road that runs east from Kabul to Jalalabad.
"Most of the danger is from roadside bombs," said Schug, who returned to the States in May. "It's just so unpredictable. It's kind of nerve-wracking."
Schug presented the flag to Murphy in a wooden case that was handmade by local Afghans. It is embossed with brass made from melted shell casings. Schug was invited to make a formal presentation to the college board of trustees later this winter.
Recent ESF News
News Archives
Communications & Marketing
SUNY ESF
122 Bray Hall
1 Forestry Drive
Syracuse, NY 13210
Communications@esf.edu