SHARE:
NYC Students Learn Hands-on Science
Sponsors for Educational Opportunity to send 20 students to ESF

8/5/2016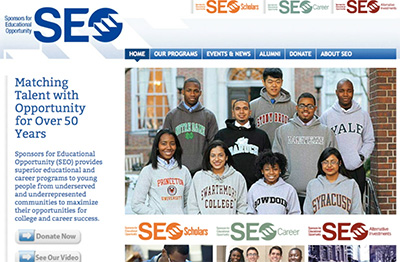 Twenty high school students from New York City will spend a week at ESF this summer, immersing themselves in hands-on science.
The students come to ESF through the New York City-based non-profit organization Sponsors for Educational Opportunity (SEO) Scholars. This is the second year the college is partnering with SEO in an effort to interest more under-represented students in environmental science and related fields.
The students will be at ESF from Aug. 7 to 12. During their stay they will investigate a number of topics including different types of renewable energy, participate in a nature hike at Clarks Reservation paying particular notice to the history and geology of the park, learn about the ecology of Onondaga Lake and area streams, and discuss the impact of invasive species on native plants and animals.
The SEO scholars will work with the ESF SCIENCE (Summer Camps Investigating Ecology in Neighborhood and City Environments) program, which offers a series of weeklong camps through the summer. Scholars will stay in ESF's Centennial Hall.
SEO Scholars is a free eight-year academic program that supports low-income public school students through their high school and college years. The program has a 95 percent college graduation rate. ESF Trustee Leslie Talbot, who has been involved with the SEO Scholars, helped foster the relationship between the college and program.
The students' trip to ESF is part of SEO's effort to expose the students to a range of academic and career possibilities.
The campers will begin their junior year in the fall.