SHARE:
Dr. John Farrell Named Exemplary Researcher at ESF
Director of Thousand Islands Biological Station recognized for aquatic research

5/22/2017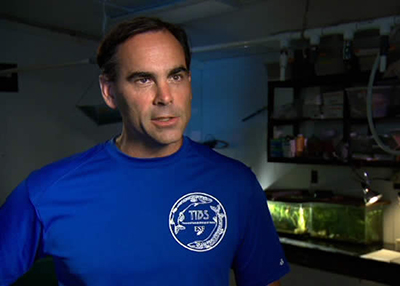 Dr. John Farrell, a professor in ESF's Department of Environmental and Forest Biology (EFB) was named the College's Exemplary Researcher for 2017-18.
Farrell received his Ph.D. (1998) and M.S. (1991) from ESF and joined the EFB faculty in 2000. Farrell's interests revolve around the broad topic of aquatic ecology and management of aquatic resources. He is interested in developing biological understanding to improve management and stewardship.
Farrell, director of the College's Thousand Island Biological Station (TIBS), focuses his research on fish ecology and coastal wetland ecology, and their application toward addressing environmental problems facing freshwater ecosystems. He is known internationally for this research, said Dr. Christopher Nomura, ESF vice president for research.
TIBS is a major aquatic research facility in North America and Farrell invests time in development activities to support building and other initiatives at TIBS. He engages in development activities such as meeting with members of the Thousand Island community and potential donors. He was co-principal investigator on a $1.2-plus million grant from National Science Foundation to rehab the lab at TIBS and install cyber infrastructure that would connect the facility with the Center for Integrated Teaching and Research in Illick Hall on ESF's main campus in Syracuse.
He has received significant funding from agencies including the National Fish and Wildlife Foundation, N.Y. State Department of Environmental Conservation, the Great Lakes Research Consortium and Cornell University. This funding pays for technicians and graduate students, along with the equipment, supplies and boats needed to run a large research program. Farrell also has an impressive publication record. In 2014 alone, he was co-author on nine peer-reviewed journal publications.
He interacts with the Clayton, New York, community, gateway to TIBS, and encourages his students to contribute to regional outreach activities.
The Exemplary Researcher Award is a college-level award recognizing successful, currently active researchers with exemplary research activity, publication record and a graduate/undergraduate student mentorship program.
Recent ESF News
News Archives
Communications & Marketing
SUNY-ESF
122 Bray Hall
1 Forestry Drive
Syracuse, NY 13210
315-470-6644