SHARE:
ESF Students Place Second in SU 'Impact Prize' Competition
'Food for Community' proposal wins $1,000 award

11/21/2017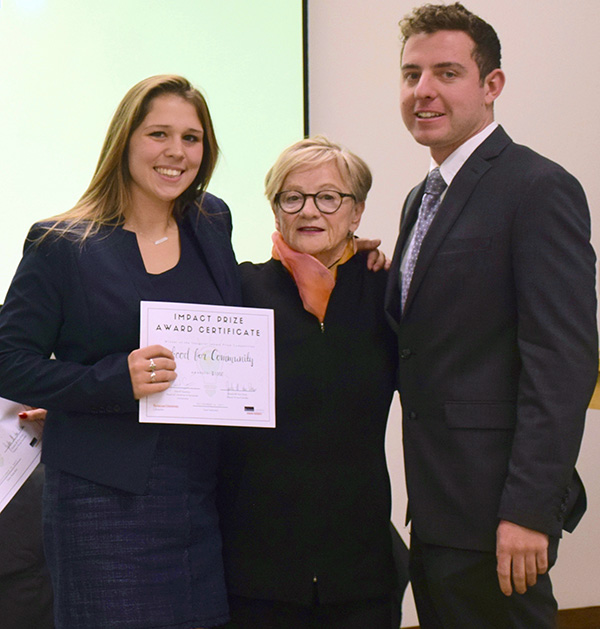 Two ESF students were among the top winners of the first Impact Prize competition, held this fall at Syracuse University.
The ESF team of Samantha Guillaume and Patrick Carleton received a second-place, $1,000 prize for their project, "Food for Community," a not-for-profit that transports unused food from local schools and takes it to local pantries to help meet needs right in local communities. They built in an educational component to teach students about sustainability and needs close to home. Both Guillaume, of Manlius, New York, and Carleton, of Bayport, New York, are seniors majoring in sustainable energy management.
Winners were selected for the most innovative and implementable ideas to help solve civic, environmental, economic or other public challenges, as part of a campuswide social entrepreneurship challenge. Selected from a field of 36 teams, the finalists competed Nov. 14 in front of a live audience as part of Global Entrepreneurship Week.
Thirty-six teams entered projects in the competion. Guillaume and Carleton were among 13 teams chosen as finalists.
Two teams of SU students tied for first place. They were Kayla Simon and Elizabeth Tarangelo for a wearable Albuterol inhaler for asthma patients who suffer from asthma attacks while on the go; and Serena Omo-Lamai and Charles Keppler for a laundry ball that traps microfibers, preventing them from entering aquifers and the atmosphere.
Organized by the Blackstone LaunchPad at SU's Bird Library, the Impact Prize competition was supported through a personal gift to SU Libraries from Gisela M. von Dran, director emerita of the School of Information Studies' MSLIS program, and former assistant professor of management at the Whitman School of Management. Von Dran also served as a judge and presented the awards.
The Impact Prize competition was managed by Kennedy Patlan '18, a triple major in advertising in the Newhouse School, citizenship and civic engagement in the Maxwell School and women's and gender studies in the College of Arts and Sciences. As the first Blackstone LaunchPad Engagement Scholar, Patlan organized the competition, conducted outreach across campus, organized Impact Generator workshops, provided peer mentoring of the applicants and supervised all event logistics.
The competition was open to Syracuse University students, as well as ESF students who are studying entrepreneurship at SU.
Judges for the final round were: Paul Brooks, LaunchNY Venture Development Organization; Eric Ennis, City of Syracuse Neighborhood and Business Development; Robert Herz, In-sourcing Community Incubator; Owen Kerney, City of Syracuse-Onondaga County Planning Agency; Joanne Lenweaver, WISE Women's Business Center; Karen Livingston, NYS Small Business Development Center; and Caitlin Moriarty, The Tech Garden.
- Based on a Syracuse University news release by Pamela Whiteley McLaughlin
Recent ESF News
News Archives
Communications & Marketing
SUNY-ESF
122 Bray Hall
1 Forestry Drive
Syracuse, NY 13210
315-470-6644