SHARE:
ESF Staff, Faculty Honored by SUNY Chancellor
Commitment to students, professionalism recognized

6/19/2018
Copyright © All Rights Reserved by copyright holder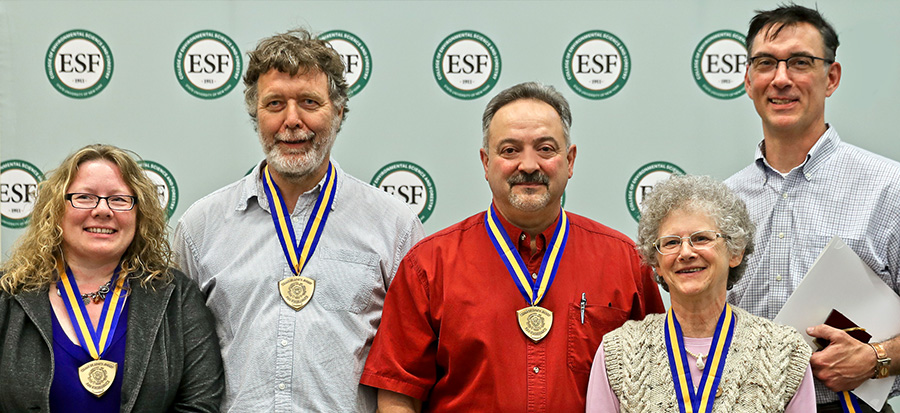 Five employees of the College of Environmental Science and Forestry (ESF) were honored by Chancellor Kristina M. Johnson for their service to the State University of New York (SUNY).
Ron Giegerich, instructional support specialist for the Roosevelt Wildlife Collection, received the SUNY Chancellor's Award for Excellence in Professional Service. The award recognizes consistently superior professional achievement within and beyond the position and those who serve as professional role models for a university system in the pursuit of excellence.
Giegerich was recognized for more than four-plus decades of tireless, consummate professional service to the College. Giegerich graduated from ESF in 1978 and was hired away from the Smithsonian Institution to manage the 10,000-plus specimens of the Roosevelt Wildlife Collection and provide instructional support to primarily ESF's vertebrate lab classes. Over the past 41 years, Giegerich has expanded the minds of thousands of students by putting in their hands birds, mammals, reptiles, amphibians and fish carefully maintained in one of the most heavily used collections in the country.
Dr. Karin E. Limburg was awarded the Chancellor's Award for Excellence in Scholarship and Creative Activities. This award supports the pursuits foundational to sustaining the intellectual growth of SUNY institutions by recognizing consistently outstanding scholarly and creative productivity, conducted in addition to teaching, by SUNY's instructional faculty.
Limburg has been an exemplary scholar and faculty member at ESF since joining the Department of Environmental and Forest Biology (EFB) in 1999. She has been one of the most productive researchers at ESF for many years, including more than 40 grants received totaling more than $13.9 million, 23 graduate students trained, post-docs and visiting scientists supported, and 102 papers published (42 as first author). Limburg teaches a number of courses in EFB including fisheries science and management, fisheries science practicum, the Hudson River watershed, and watershed ecology/focus on Hudson. She brings her research into these courses as well as tremendous rigor, quantitative skills, logic and passion.
Limburg has also been exceptional in service in her field. She is a leader in the national and international scientific community, where she has served as reviewer for more than 20 different journals, associate or co-editor for five journals, referee or panelist for six grant agencies, and as member on many professional committees and review panels. She belongs to nine professional societies and was instrumental in founding the U.S. Society of Ecological Economics, for which she served several years as board member and president. She is also the founding co-editor of Reviews in Ecological Economics.
Timothy R. Toland, associate professor in the Department of Landscape Architecture, was awarded the Chancellor's Award for Excellence in Faculty Service, which recognizes the consistently superior service contributions of teaching faculty. This service must be sustained over multiple years and may occur in a variety of venues.
Toland has been an active leader and contributor to the campus planning efforts including the Campus Master Plan, the Marshall Hall rehabilitation study, the Academic Research Building planning committee, the Gateway Center (including research and design of the groundbreaking green roof), redesign and construction of the Gateway Center bioswales, and work with physical plant and other faculty to maintain and protect a diverse tree and other vegetation collection for use in campus teaching and research.
Toland has made significant contributions to the N.Y. state departments of transportation and environmental conservation with regard to stormwater design standards using green infrastructure and has particular expertise in manufactured soils for runoff pollutant management. He received a NYSERDA grant to improve understanding of soil performance in green infrastructure. In 2014 he was recognized by the NYU American Society of Landscape Architects (ASLA) as Academic Practitioner of the Year.
Toland has served ASLA on legislative review, the Council of Tree and Landscape Appraisers and the American Ecological Engineering Society, and he was recognized by ASLA with the Outstanding Service Award in 2013.
Jane Verostek, associate librarian, received the SUNY Chancellor's Award for Excellence in Librarianship. The award is given to librarians who demonstrate extraordinary performance in librarianship, service to the university and to the profession, and scholarship.
Verostek was recognized for her work to reopen the ESF Archives and Special Collections. She dedicated herself to improving the ESF Archives and Special Collections on a number of levels and used her skills and her knowledge of ESF as both an alumna and a long-term librarian/faculty member. She led the selection of and purchased the archival management software PastPerfect and set up a photo studio area in the archives. Three dimensional objects, posters and textiles are being photographed and cataloged.
She has digitized items most relevant to the community, including all of the ESF history books, the films of ESF Professor Emeritus William Harlow and the student newsletter the Knothole.
Verostek worked to digitize the collections of Fletcher Steele and photographs from the Roosevelt Wild Life Station, making them available via an online portal to researchers through the New York Heritage site. She created inventories and finding aids for collections and shares this information online via library software called LibGuides.
She continues to be involved in teaching and trains ESF in the High School program students in library resources and research techniques.
Dr. Alexander Weir was awarded the Chancellor's Award for Excellence in Teaching. This award honors those who consistently have demonstrated superb teaching at the undergraduate, graduate or professional level.
Weir, a professor in EFB, was recognized for his contributions as one of the most effective and inspirational teachers in the department.
His scientific and teaching expertise is in conservation mycology, fungal biodiversity and conservation, fungal-arthropod interactions, biology of parasites and symbionts, systematics and evolutionary biology of fungi, fungi and human interactions, and biology of parasites and symbionts.
He is among the most effective and inspirational teachers in EFB and at ESF. He received the Distinguished Teaching Award from ESF's Undergraduate Student Association in 2006 and the ESF Professor of the Year Award from Syracuse University sorority Phi Alpha Sigma in 2004-05. In 2008 he was nominated for and recognized by the international Mycological Society of America with that society's highest teaching recognition, the William H. Weston Award for Excellence in Teaching
His mycology class is not only a popular course on campus, but one of the largest mycology courses in the country and many of his students have gone on to graduate programs in mycology. Weir endeavors to update both his lectures and labs to reflect new discoveries and rapid advances being made with regards to phylogenetic relationships and incorporates online resources. The educational highlight of this course is a required collection of fungi that students have to identify, with his assistance, as needed.
Weir has completed work with 12 graduate students and has four in progress. He has also mentored many undergraduate students through projects in his lab. He has given invited departmental seminars at Moscow State University, Binghamton University,and Old Dominion University and has given other invited talks at the NE Mycology Meeting and the Annual Meeting of the Mycological Society of America. Weir was director of the department's Cranberry Lake Biological Station from 2005-14.
Recent ESF News
News Archives
Communications & Marketing
SUNY-ESF
122 Bray Hall
1 Forestry Drive
Syracuse, NY 13210
315-470-6644