SHARE:
Patrick Jackson Honored as Green Building Advocate of the Year
Award is presented at ESF-hosted NY State Green Building Conference

4/26/2019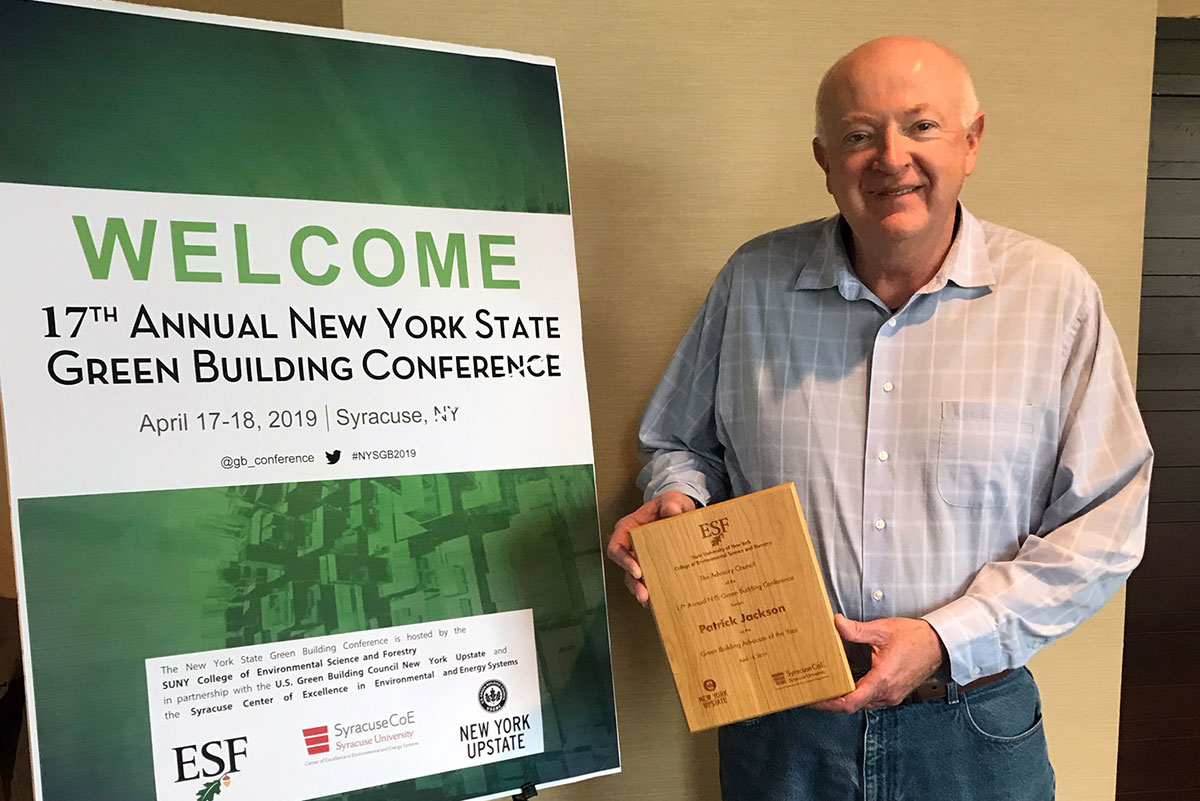 Patrick Jackson, director of the Global Energy Management program (GEM) at Corning Incorporated, received the Green Building Advocate of the Year award at the 2019 New York State Green Building Conference.
The conference, held April 17 and 18 at the Marriott Downtown in Syracuse, New York,is hosted by the SUNY College of Environmental Science and Forestry in partnership with the US Green Building Council New York Upstate and the Syracuse Center of Excellence in Environmental and Energy Systems.".
Jackson was credited with helping to improve companywide energy productivity by 35 percent since 2006, specifically:
Cutting greenhouse gas emissions by more than 2.3 million metric tons, equivalent to the carbon dioxide emissions from nearly 250,000 homes in the U.S. over a one-year period
Investing in renewable energy, including constructing a solar array at its plant in Oneonta, New York, and at two facilities in Taiwan
Joining Apple's China Clean Energy Fund
Launching an Employee Community Solar Program, in which employees can source portions of their home's electricity from community solar fields
Achieving ENERGY STAR' Challenge for Industry at 20 global manufacturing plants since 2015
Reducing energy intensity at its optical fiber and cable plants by 50 percent
Providing high-tech equipment to help combat harmful algal blooms (HABs) in the Finger Lakes region of New York and sponsoring an annual community meeting to educate the public on the impact of HABs
Surpassing half a billion dollars in energy savings for the company since 2006
Jackson and his team were recently awarded a sixth straight ENERGY STAR Partner of the Year award, this year for Sustained Excellence
"It's about collaborating and sharing ideas with other world leaders in energy management," Jackson said when that award was presented. "Communication is the cornerstone of success, and sharing such best practices can help make our world a better and cleaner place."
The Advocate of the Year award is presented by the New York State Green Building Conference Advisory Council to an individual actively involved in green building and its supporting disciplines, either in a professional or volunteer capacity, and prominent in promoting the need to reduce the overall impact of the built environment on humans and the natural environment.
Recent ESF News
News Archives
Communications & Marketing
SUNY-ESF
122 Bray Hall
1 Forestry Drive
Syracuse, NY 13210
315-470-6644