SHARE:
ESF Hosts Environmental Career Fair
Expo gives students to opportunity to meet with potential employers

2/23/2011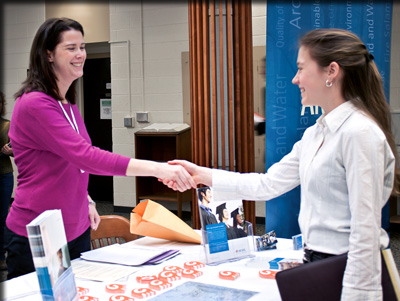 ESF hosted the 10th Annual Environmental Career Fair Feb. 23 in Moon Library. The career fair brings together representatives from a broad range of organizations that offer careers associated with the environment.
"It's wonderful that ESF hosts the career fair," said Rachael Weiter, a junior Environmental Resources Engineering major. "It's a great place for students to learn what job opportunities are out there and meet with employers face to face."
This year's fair boasted 55 employers. "Given the current economic times," said John Turbeville, director of career services at ESF, "this is a testament to the product - our students - that ESF offers." A majority of the employers at the fair had full-time jobs available and 75 percent have internships to fill.
Organizations in attendance included corporations, governmental and non-profit agencies, and graduate schools.
Jen Moore of Arcadis, an international company providing consultancy, design, engineering and management services in the fields of infrastructure, water, environment and buildings, noted half the employees in their Syracuse office are ESF grads.
"The students out of ESF make great employees and great leaders in our company," Moore said.
The event provides opportunities for students to explore the great variety of career opportunities available to them and gives employers a chance to recruit highly qualified candidates.
The Environmental Career Fair is part of the Career Development Series sponsored by the Office of Student Life. Other installments included a Dress for Success fashion show, a session about writing resumes and cover letters, a session called Succeeding at the Career Fair and an etiquette dinner.
Recent ESF News
News Archives
Communications & Marketing
SUNY-ESF
122 Bray Hall
1 Forestry Drive
Syracuse, NY 13210
315-470-6644