SHARE:
ESF Hosts East Coast Lumberjack Round-Up
ESF women's team finishes first

3/28/2011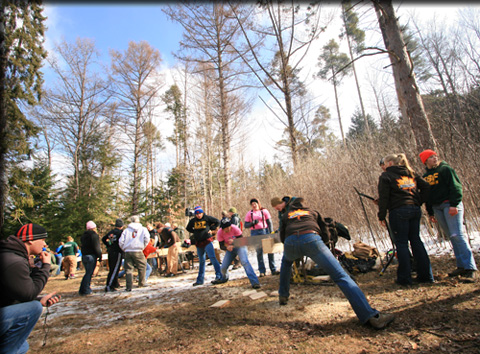 The SUNY-ESF women's team finished in first place March 26 when teams from six colleges gathered at the LaFayette Road Experiment Station for the Sixth Annual East Coast Lumberjack Roundup.
The women's team posted the best score among the five women's teams that competed. ESF's two men's teams finshed fifth and seventh among 13 men's teams. Four co-ed "Jack-and-Jill" teams also competed.
On a bright but cold day, friends and family members gathered to cheer on the competitors, who came from Paul Smith's College, SUNY Cobleskill, SUNY Alfred, Finger Lakes Community College and Penn State, in addition to ESF.
The ESF women's team garnered 1,017 points, winning team bow saw, pulp toss, and cross-cut. The team also placed first in the standing block chop. Finishing first in the singles events for ESF were Alex von Bieberstein, singlebuck; Cassie Pinkoski, obstacle course; and Natalie Scheibel, firebuild.
Finger Lakes Community College won the men's division. The ESF men's teams earned 899 (Team 1) and 881 (Team 2) points. The singles pole climb event was won by Adam Nicolas, from ESF's Team 2.
The ESF Jack-and-Jill team placed second with 851 points, behind Paul Smith's College, with 889. The ESF team placed first in the team logroll course. Placing first in the singles events were Candi Finger, firebuild; Jason Schneck, hard hit; and Evan McFee, disk stack.
The ESF Woodsmen noted that they extend their thanks to their friends and the ESF alumni who helped throughout the day with setting up, timing and judging.
Recent ESF News
News Archives
Communications & Marketing
SUNY-ESF
122 Bray Hall
1 Forestry Drive
Syracuse, NY 13210
315-470-6644