SHARE:
Find Out What Forests Do for You
Adirondack Program Focuses on Forestry in 21st Century

5/31/2011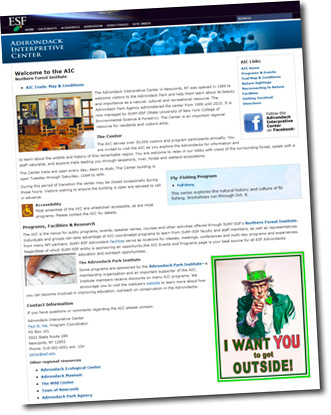 The importance of forestry, forest management and the forest-products industry is the focus of a lecture series, "Working Forests Working for You," that will be offered through November at the Adirondack Interpretive Center in Newcomb, N.Y.
The series brings professionals from silviculture, private and state forest management, lumber and paper mills and forest products industry and trade advocacy groups to discuss the process of growing, managing and using forests in the 21st century.
Each lecture is approximately one hour, with time for discussion, and most sessions include an optional field trip. Trips include visits to diverse types and ages of forest stands, silvicultural and forestry research and demonstration sites, and active forest harvesting sites.
The program is offered through the Northern Forest Institute for Conservation Education and Leadership Training, part of the SUNY College of Environmental Science and Forestry (ESF), which also oversees the Interpretive Center.
Sessions are the third Saturday of each month through November. The lineup of speakers is as follows:
• Silviculture and the Science of Forests; Ralph Nyland, Ph.D., SUNY-ESF
• The Science of Managing Forests; Rene Germain, Ph.D., SUNY-ESF
• New York's Greenest Natural Resource - Working Forests and the Conservation Easement program; state Department of Environmental Conservation Division of Lands and Forests
• From the Ground, Up - Managed Forests and Private Industry; F&W Forestry/Lyme Timber
• Seeing the Forest and the Trees - The Importance of Working Forests on a Regional, Global and Climatic Scale; Society of American Foresters
• Of Family and Forest; Ward Lumber
• Forest Products Industry I - Paper; International Paper
• Forest Products Industry II - Engineered Wood Products; Unadilla Silo Co., UnaLam
• Forest Products Industry III - Empire State Forest Products Association
• Wild and Working Forests: Values, Principles and Ethics; Adirondack Wild
For more information, contact Paul Hai at phai@esf.edu.
Recent ESF News
News Archives
Communications & Marketing
SUNY-ESF
122 Bray Hall
1 Forestry Drive
Syracuse, NY 13210
315-470-6644