ESF Cross Country Teams Repeat As National Champs Women's and Men's teams take USCAA titles in Virginia Beach


11/11/2022
SHARE: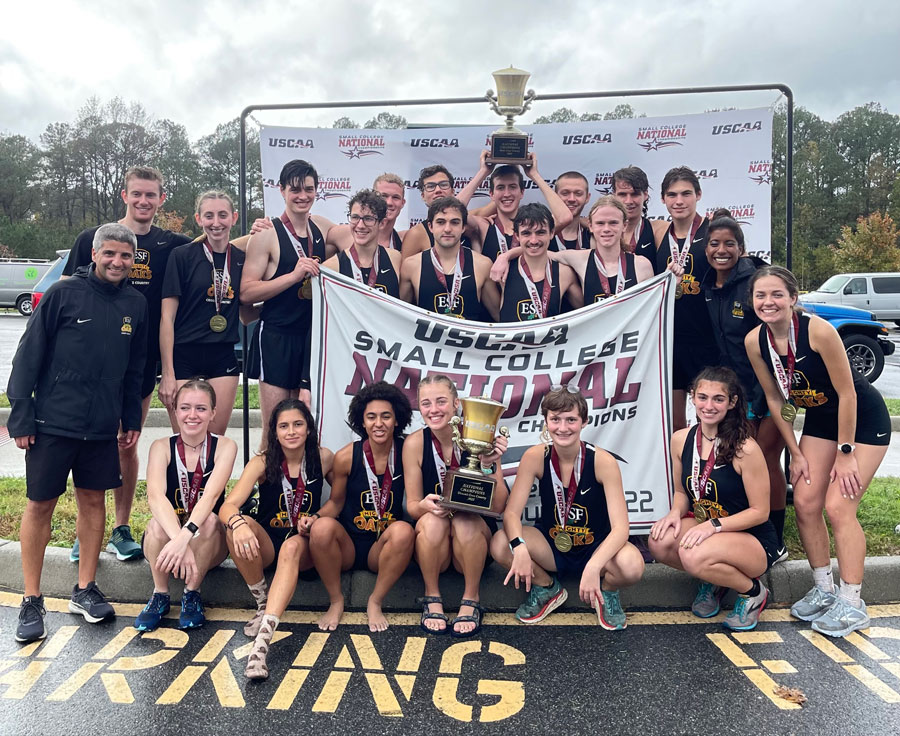 The SUNY College of Environmental Science and Forestry (ESF) Mighty Oaks women's and men's cross country teams won the United States Collegiate Athletic Association's (USCAA) national championship in Virginia Beach today, Nov. 11. This is the second time both teams have secured national championships in the same year.
"We're incredibly proud of our Mighty Oaks runners," said ESF President Joanie Mahoney. "Balancing athletics and academics is challenging and our student athletes have shown they can excel both on the field and off. Congratulations to all our runners and Coach Mike Melfi for leading them though another exciting season."
The women's team was led by the one-two-three finish of first-year Katie Richardson (24:49.1), first-year Savannah Kuhr (24:50.5), and junior Bryce Hopper (24:57.3) on the 6K course. Rounding out the top 10 were senior McKenzie Dombroski (25:08.8, 5th place) and first-year Margaret Ryan (25:21.3, 6th place).
Also competing for the women's team were sophomore Mary Roach (26:48.7, 16th place), junior Aubrianna Brown (27:00.2, 17th place), and senior Aine Haugh (29:37.9, 20th place).
The women's race featured a field of 62 runners from 10 schools.
Richardson, Kuhr, Hopper, Dombroski, and Ryan First Team All-American honors.
"Our times were really solid despite the muddy course and humid conditions," said Coach Mike Melfi. And the runners overcame a unique challenge on the course with the top five women led off the course by the lead gator almost halfway into the race.

"Fortunately, I was in the area and assured our pack they were OK despite having to change their strides to get back on course," said Melfi. "I am so proud of how hard they have worked all season, the dedication and the sacrifice to win for the second year in a row!"
This is the third national championship for the women's team, with the previous titles coming in 2018 and 2021.
The men's team dominated the top 10 led by the one-two finish of senior Matthew Tripp (26:52.2) and sophomore Sean Dristle (27:52.1) on the 8K course. Rounding out the top 10 were junior Ryan King (28:42.9, sixth place), first-year Chance Dawson (29:00.8, seventh place), senior Sam Auria (29:08.0, eighth place) and first-year Korben Anderson (29:16.6, ninth place).
Rounding out the men's team were senior Ersillo Cremator (29:28.9, 11th place), junior Ethan Winter (29:38.1, 14th place), sophomore Colin Flannery (29:51.3, 15th place), sophomore Josh Carguello (31:20.8, 24th place), and first-year Brandon Wingert (32:55.9, 30th place).
Tripp, Dristle, Ryan, Dawson, Auria, Anderson, Cerminaro and received First Team All-American First Team Honors. Winter was named Second Team All-American.
The men's race featured 86 men from 13 teams.
The Mighty Oaks men have five previous national titles to their credit from 2011 to 2014 and 2021.
"Our guys ran wicked smart from the start. The second half of the race is where we really were able to show our strength," said Melfi "To win a national cross country championship in a dominating way at any level is hard. We had three seniors on this national team who have given so much to the program—Matthew Tripp, Ersilio Cermimaro and Sam Auria—and I am glad they go out as defending national champions."
About SUNY ESF
The SUNY College of Environmental Science and Forestry (ESF) is dedicated to the study of the environment, developing renewable technologies, and building a sustainable and resilient future through design, policy, and management of the environment and natural resources. Members of the College community share a passion for protecting the health of the planet and a deep commitment to the rigorous application of science to improve the way humans interact with the world. The College offers academic programs ranging from the associate of applied science to the Doctor of Philosophy. ESF students live, study and do research on the main campus in Syracuse, N.Y., and on 25,000 acres of field stations in a variety of ecosystems across the state.
Recent ESF News
News Archives
Communications & Marketing
SUNY ESF
122 Bray Hall
1 Forestry Drive
Syracuse, NY 13210
Communications@esf.edu