ESF's Landscape Architecture Department Moves Downtown Temporary Home Allows for Marshall Hall Renovations

9/1/2020
SHARE: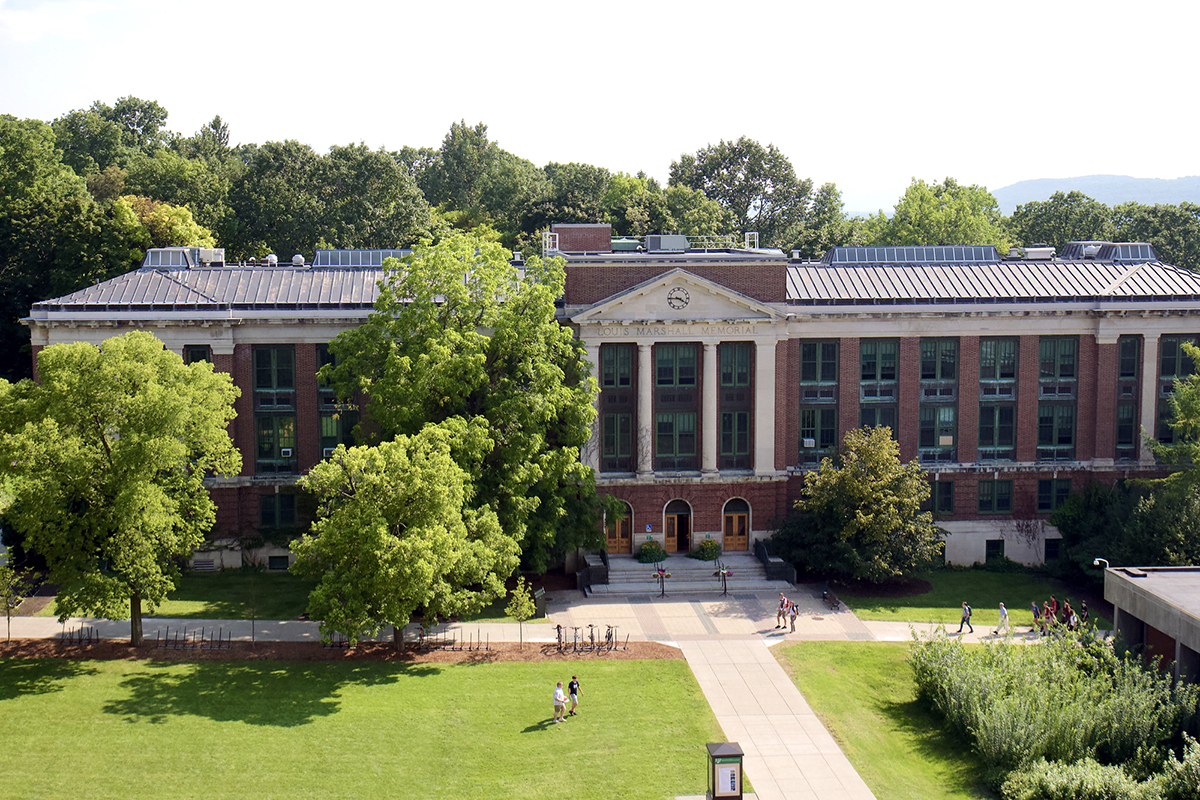 Classes for landscape architectures students at the SUNY College of Environmental Science and Forestry (ESF) will be held in downtown Syracuse to accommodate a two-and-a-half-year renovation of Marshall Hall.
The 87-year-old building is undergoing a major renovation which facilitated the need to relocate three academic departments. The Department of Landscape Architecture has moved to the heart of Syracuse to 224 Harrison Street. Environmental studies and general education have been re-located to various buildings on ESF's Forestry Drive campus.
Landscape architecture's classrooms, computer labs, centers for research, and faculty and graduate student offices are now housed on the seventh and eighth floors in the downtown space.
"I think the students are eager to be back and the new location provides a different perspective," said Douglas Johnston, chair of the Department of Landscape Architecture.
Being downtown "puts the students in proximity to the kind of sites they study," said Johnston. "We'll be doing a lot of outdoor teaching and touring."
LA students will have the best of both worlds, said Johnston. "Students will be up close and personal" to the I-81 project, Onondaga Creek, Syracuse history and urban development while having all of ESF's resources available, he noted.
While most classes are online this semester due to pandemic restrictions, students and faculty interact in the new space following masking and social distancing protocols. Students, faculty and staff have nearby parking and can ride the SUNY Upstate Medical shuttle bus that runs from The Hill to Upstate's nearby downtown buildings.
Marshall Hall was dedicated in 1933.
"It's got great bones and some nice finishes, beautiful history and historical features, but it wasn't serving academics well," said Rex Giardine, assistant director of facilities planning, design and construction. "The classrooms were antiquated and the solid terra-cotta masonry walls made it difficult to run telephone and network wiring." The building was also in need of renovations to meet ADA and other standards.
When complete, Marshall Hall will include studio space, flexible classrooms that can be configured to match different needs, and multiple meeting rooms in a variety of sizes. Marshall auditorium will be transformed into a hybrid classroom that improves the front of the auditorium with high-quality auditorium seating with tablet-arms for laptops and notebooks, while the back half of the room will have space for tables and chairs that can be arranged for group projects or events. A second elevator on the building's west end and a bridge connecting the building's second floor to the Bray Hall hill will greatly improve the building's accessibility.
Signature building features such as the spiral staircase and the main entryway will remain, said Giardine.
Recent ESF News
News Archives
Communications & Marketing
SUNY-ESF
122 Bray Hall
1 Forestry Drive
Syracuse, NY 13210
315-470-6644