Faculty Profile


Maren King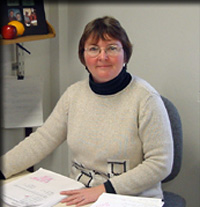 Emeritus Associate Professor

416 Marshall Hall
Education
SUNY College of Environmental Science and Forestry
Master of Science in Landscape Architecture, 2002
Bachelor of Landscape Architecture, 1978
Academic and Practice Experience
SUNY ESF Department of Landscape Architecture, Associate Professor
SUNY ESF Center for Community Design Research, Syracuse, NY 2001 - present
Director – Facilitate community-based design and planning projects in which students and community members work together to develop strategies to build on resources and address issues to create and manage sustainable communities; collaborate with organizaiton partners on participatory action research projects; www.esf.edu/ccdr
Reimann Buechner Landscape Architects, Syracuse, NY 1997 – 2000
Landscape Architect – Project management, site design, construction documents and administration
Hanna/Olin, Ltd., Philadelphia, PA 1983 - 1994
Senior Associate - Office and project management, master planning and site design, construction documents and administration
The Tarquini Organization , Camden, NJ 1981- 1983
Landscape Architect– Site planning, community design studies, environmental assessment
Kotz and Schneider , Syracuse, NY 1978 - 1981
Landscape Design Staff
Personal Narrative
I joined the Dept. of Landscape Architecture full-time in 2002 after 20 years in private practice and a mid-career return to earn a MSLA degree with a focus in community design. My dual role as a faculty member in the department and as the director of the SUNY ESF Center for Community Design Research has provided me with multiple opportunities to engage students and community members in a variety of projects. Established in 2000 the Center has expanded the educational and community impact of the department's 50-year tradition of service and assistance to community through our teaching studios. I have been associated with the Center since its beginning, providing support for other department faculty and introducing students to skills and methods to collaborate effectively with community members. In our work with communities, non- profit organizations and state agencies, the Center has fostered the growth of broad and sustained collaboration, enabling the department to bring forward new knowledge and ways of working.
My extensive professional experience in design, project implementation and management engages students in projects of different types, scales and design phases, incorporating a broad range of topics that contribute to the creation and management of sustainable systems and environments. It is an approach that brings together an underlying respect for and understanding of nature and ecological systems, a belief in the importance of the quality of the natural and built environment on individual and community lives, and a commitment to use the values and skills of landscape architecture and community design to help create places that support healthy lives and environments.
As we face ever more complex ecologic and social disruptions, landscape architects must continue to develop skills to work in partnership with other disciplines, policymakers and communities at all scales in order to find solutions or adaptations to these challenges. At the same time, I believe that changes to create sustainable communities must begin at the local level. A focus on co-learning through design process and accompanying educational programs provides opportunities for both action and life-long learning among our students, community members and design professionals. Several recent projects engage community members, students, organization staff and agency partners as co-researchers in which questions and issues to be explored are identified by the team rather than a client or lead consultant. For more information on current and past projects that I have facilitated with students, faculty colleagues, communities and other partners, see www.esf.edu/ccdr
Courses Taught
Through most of my career at SUNY ESF, much of my teaching within the department has been devoted to organizing and facilitating service-learning projects in collaboration with faculty members in undergraduate and graduate foundation studios. Through engagement with community members on design and planning projects, our approach promotes deep learning through application of participatory methods, design research, communication skills, and translation of multiple sources of knowledge into place appropriate design alternatives. I have also taught the following courses:
LSA 700 –Design Studio V – Integrative Studio (2017) - Learning through Development in Arcahaie Haiti. Co-taught with Prof. Emanuel Carter. A team of 12 undergraduate and graduate students prepared master plan studies for the development of a community-based learning village being developed by the State University of New York. Students had the opportunity to spend several days in Haiti for site and context inventory and meeting community members and project partners. Part of an on-going design research project.
LSA 650 - Behavioral Factors in Community Design (2015-2018)
LSA 496/696 – Community Resilience Design and Planning (2015-2016) – In collaboration with Prof. Richard Hawks
LSA 425, 458, 459, 460, 461 - Off-Campus Design Thesis Studio and related courses (2015 and 2019) - Advising students preparing for and accomplishing independent studies in the Netherlands.
LSA 470/670 – Community Design Thematic Studio (2017) – Engaged a studio of ten 5th year undergraduate and 2nd year graduate students to learn and apply methods of community design through working in collaboration with a local non-profit committee and community residents to create a revitalization strategy for Oneida City Center.
LSA 470/670 – Community Design Thematic Studio (2013) – Engaged a studio of five 5th year undergraduate landscape architecture students to learn and apply methods of community design through work with the Syracuse Department of Parks and community members to prepare design studies for a family activity and natural play area in Lower Onondaga Park, Syracuse.
LSA 470/670 – Community Design Thematic Studio (2011) – Engaged a studio of twenty 5th year undergraduates and 2nd year graduate landscape architecture students to learn and apply the methods and approaches of community design practice in two different community design projects, one rural and one urban.
LSA 696 – Community Design Studio (2004) – Joint studio with Prof. Paula Horrigan, Cornell Dept. of Landscape Architecture, based in the Binghamton Northside neighborhood.
LSA 496/696 - Community Participation Seminar (2004, 2018) – Introduced theory and practice of community participation and provided forum for research and discussion.
LSA 455- Professional Practice in Landscape Architecture (1997 and 1998) – Developed course content and taught professional practice in landscape architecture to 5th year undergraduate and 2nd year graduate students. Topics included project and office management, phases and content of project production and job search skills and process.
Professional Registration
Landscape Architect, New York