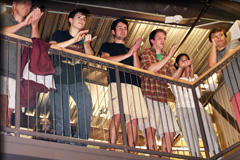 Centennial Hall Marks New Chapter in ESF History
The SUNY College of Environmental Science and Forestry (ESF) cut the green ribbon on its first residence hall Friday, kicking off a new era for the 100-year-old College.
"Centennial Hall is a transformational facility," ESF President Cornelius B. Murphy, Jr., told a crowd of College Foundation Board members, college employees, alumni, students and their families who filled the first-floor reception area and lounge. "Think about getting this project done from 18 dilapidated structures that used to be here to this extraordinary facility in 141/2 months."
Centennial Hall, named in honor of the 100th anniversary of the College's founding in 1911, provides the first housing exclusively for ESF students. Previously, ESF students lived in SU residence halls or in rented apartments and houses in the university neighborhood.
The building opened in August to 452 students. Freshmen live in two-person shared suites with private baths and upper classmen can choose either private or semi-private suites or apartments.
The $30 million residence hall, constructed by the ESF College Foundation, Inc., was built to be an environmentally friendly LEED-certified building. Its impact on the environment is reduced by the use of storm water management techniques, sustainable building materials where possible, landscaping that includes native plants and a limited need to mow, extensive indoor storage and cleaning facilities for bicycles, and a pedestrian-friendly design.
"This project was a winning effort for all involved," said Rhonda Johannesen, senior vice president of real estate development for Education Realty Trust, which manages the facility on behalf of the ESF College Foundation. "It was a truly a collaborative effort that created valued friendships and a unique, attractive facility that embodies the sustainability values of this great College and its foundation."

ESF sophomore Joseph Piazza, a paper engineering major from Staten Island, said living in the residence hall a short walk from campus gives the students more time to enjoy college life and build relationships with each other. With other students watching from the second-floor balcony, Piazza said, "ESF has truly become a home away from home."
The ribbon cutting was incorporated into ESF's annual Alumni and Family Fall Barbecue. Weekend events also include a reception, faculty presentations, campus tours, a demonstration by the Woodsmen's Team, and an activities fair.