Dr. Jonathan Cohen Named ESF Exemplary Researcher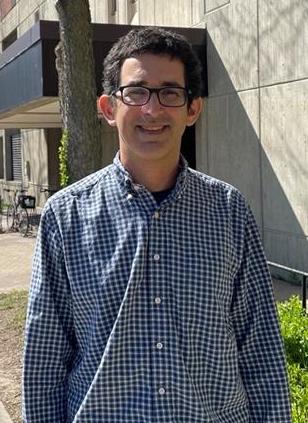 The SUNY College of Environmental Science and Forestry (ESF), the most distinguished institution in the nation that focuses on the study of the environment, is pleased to name Dr. Jonathan Cohen, professor in the Department of Environmental Biology, the ESF Exemplary Researcher for 2022-23.
This award is ESF's highest honor recognizing successful, currently active researchers with exemplary research activity, publication record, and a graduate/undergraduate student mentorship program. Nominations are submitted by the College community to the Research Committee, which makes a recommendation to the Provost and the Vice President of Research. The award includes a stipend to support the individual's research, and they present a lecture on their research in the fall.
Cohen's research is focused on the conservation and management of birds and wildlife, primarily imperiled species. These include extensive research programs on piping plovers along the eastern seaboard, tidal marsh birds such as saltmarsh sparrow in and around New York City, and New England cottontail rabbits.
"Dr. Cohen is an exceptional scholar whose research is vital to the preservation of species," said President Joanie Mahoney. "Jonathan is also an outstanding mentor to students and an integral member of the ESF community. We are honored to recognize Dr. Cohen with the Exemplary Researcher Award."
Cohen has secured more than $3.5 million in research funding and has published 68 peer-reviewed papers, including 27 papers in the last three years alone. His research has directly influenced wildlife management actions for at-risk species, including Federal listing decisions under the Endangered Species Act.
Cohen has graduated eight master's, two Ph.D., and two post-docs from his lab; his current lab group comprises seven graduate students and one undergraduate honors student. His students have likewise proved exceptional, with at least 67 fellowships, scholarships, research awards, and awards for research excellence claimed by his team.
Mentoring the graduate students and teaching undergraduates is Cohen's favorite part of the job. He is also an excellent campus citizen who contributes strongly to research, teaching, and service beyond his interests.
"Jonathan is highly admired by senior and junior faculty, and is consulted regularly on developing research topics as well as troublesome data analysis after the fact," said Dr. John Stella, vice president of research. "He brings astounding creativity to problem-solving and scientific insights, with seemingly unbounded knowledge about managing complex data."
About SUNY ESF
The SUNY College of Environmental Science and Forestry (ESF) is dedicated to the study of the environment, developing renewable technologies, and building a sustainable and resilient future through design, policy, and management of the environment and natural resources. Members of the College community share a passion for protecting the health of the planet and a deep commitment to the rigorous application of science to improve the way humans interact with the world. The College offers academic programs ranging from the associate of applied science to the Doctor of Philosophy. ESF students live, study and do research on the main campus in Syracuse, N.Y., and on 25,000 acres of field stations in a variety of ecosystems across the state.