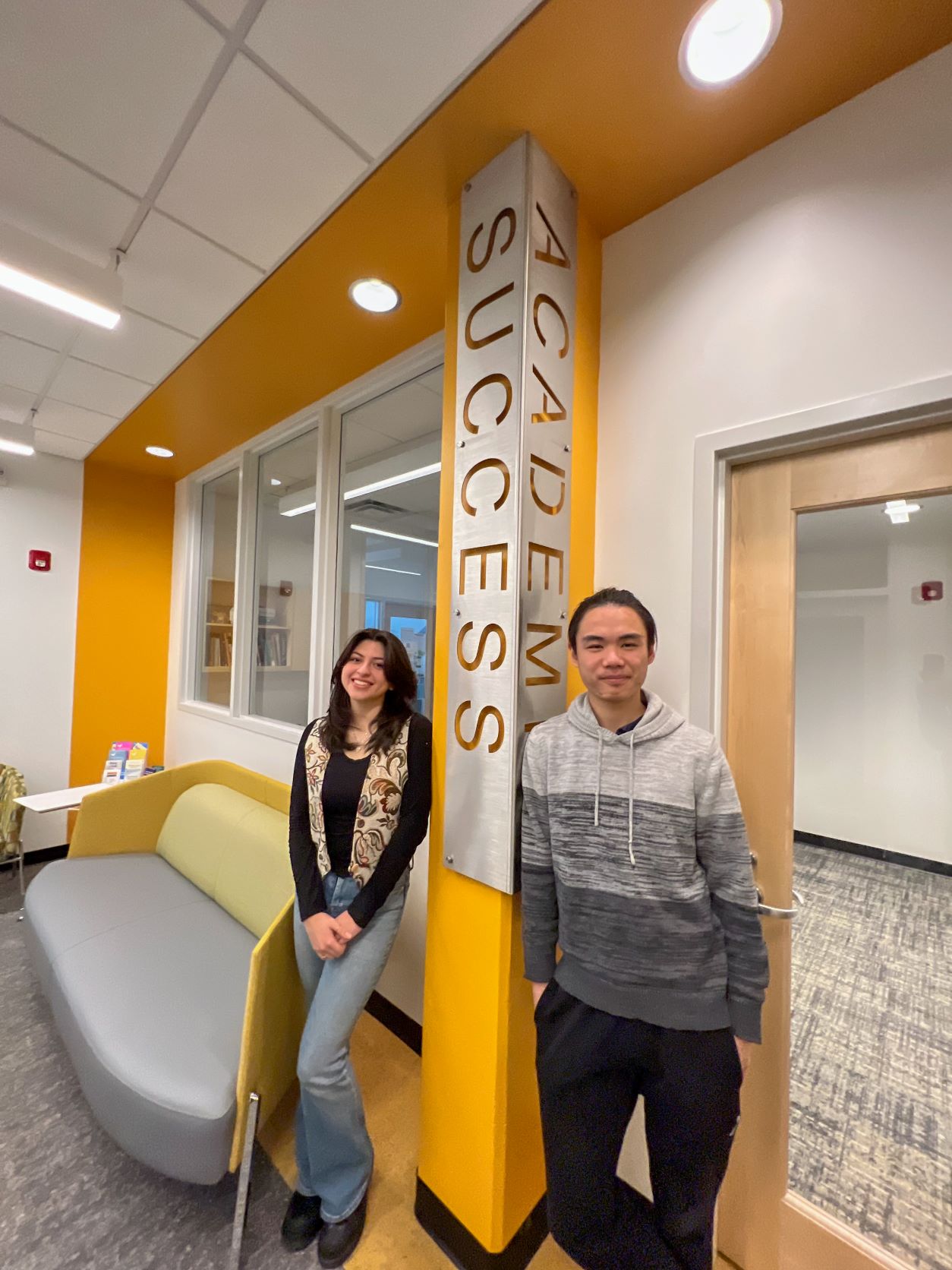 Mighty Oak Monday: Andre Luo and Elizabeth Vazquez
Andre Luo
Major: Environmental Science
Concentration: Geospatial Information Systems
Hometown: Zhengzhou, China
Class of '23
Elizabeth Vazquez
Major: Environmental Education and Interpretation
Hometown: Bronx, New York
Class of '25

Both Andre Luo and Elizabeth Vazquez know firsthand the struggles that international students can face when integrating into American schools.

"Even though I was born in the U.S., I grew up in a primarily Spanish-speaking household," Elizabeth explained. "When I started going to school, it was a barrier to getting to know the other kids."

Andre agreed. "I am a recent immigrant myself, so I know exactly the challenges they are facing in their transition," he said.

When Dr. Nino Jakhaia, Director of the English for Speakers of Other Languages Center (ESOL), approached them about facilitating an ESOL conversation class, they readily accepted. The class would focus on developing English-speaking skills and integrating into life at ESF.

Elizabeth and Andre are the primary leads for the class under Dr. Jakhaia's guidance. There are only two requirements for participants: show up and practice English to the weekly sessions. While the conversations are short, they leave a lasting impact.

"Sometimes we pick an article or video that helps us break down and better understand American culture," Andre said. "Usually, we pick something that is cross-cultural, so we can discuss how different cultures view the idea."

Other times they just chat about culture shocks they experience.

"I remember when the students brought up eating in the classroom," Elizabeth said. "Here, it's become more normalized, but many Chinese students said the practice was very disrespectful in their culture."

Over time, the students became more comfortable with the English language and more readily engaged in conversations.
"It was amazing to see people open up right before your eyes," Elizabeth said.

She and Andre have been leading the program for a year and half.
"Seeing a person's confidence grow is an inspiring thing to behold," Andre said adding, "Especially when I consider my experience learning the language."
Learn more about the ESOL Center at ESF!