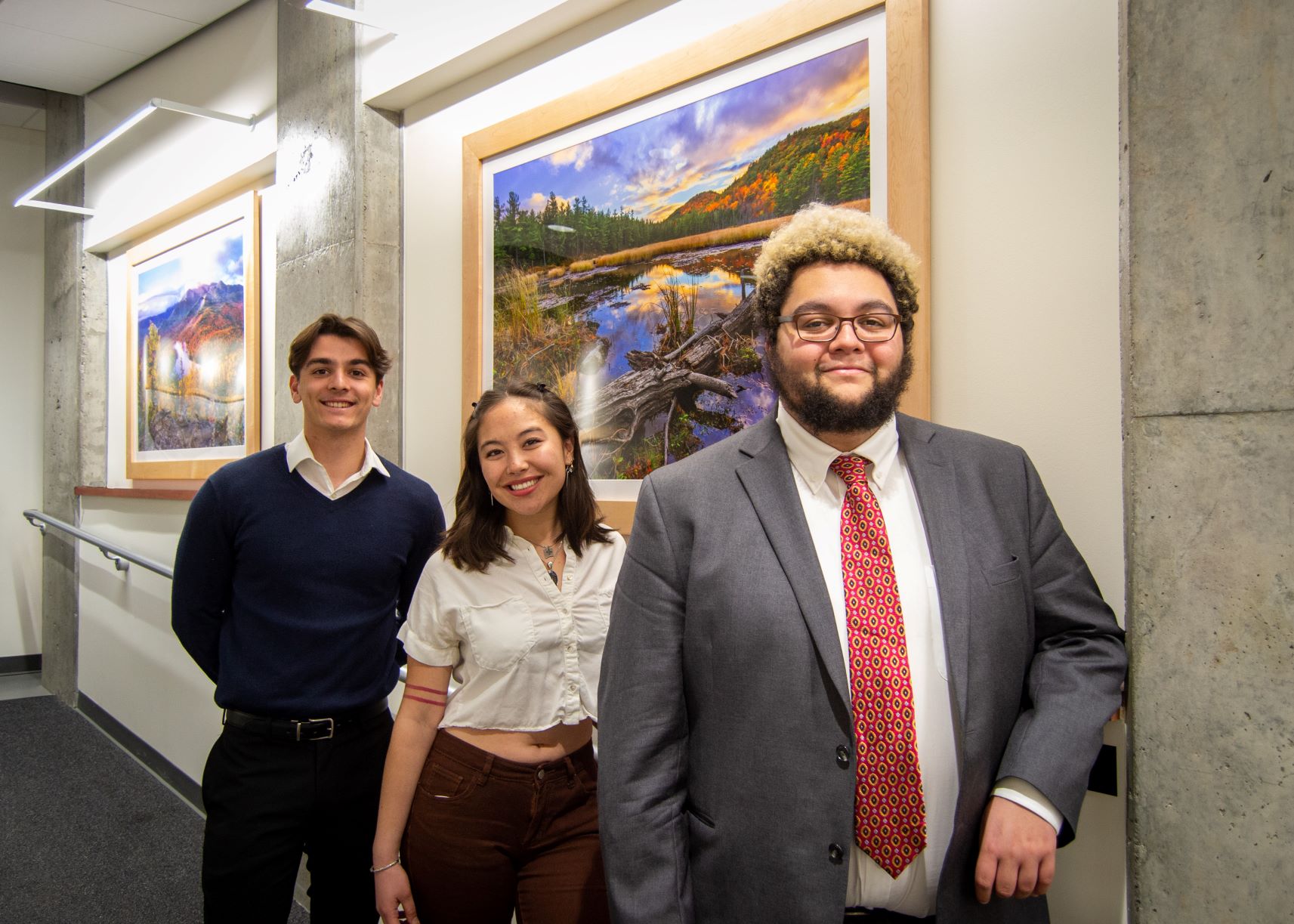 Three ESF Students Named Finalists in National Environmental Storytelling Competition
Winners of the PlanetForward Storyfest to be Announced in April
Accessibility to water in one of the driest areas of the country, access to healthy foods in low-income areas, and cultivating a passion for environmental activism on college campuses are topics that earned three students from the SUNY College of Environmental Science and Forestry (ESF) the title of PlanetForward Storyfest finalist.
Eden Gardner, Eva Sideris, and Owen Volk are among the 37 finalists in the annual competition. The Planet Forward Storyfest Awards highlight the voices of students seeking to understand and illuminate their own innovations for how to best care for the earth. The winners will travel with Planet Forward and Lindblad Expeditions to Iceland on July 15-20, 2023, for an opportunity to see and report on the environmental solutions, preventative measures, and innovations already being developed in the country.
"We are proud of our students for using their voices and talents to tell stores that call attention to the problems and solutions related to climate change and protecting the planet. Their outstanding work helps to keep ESF on the national map as an institution educating the next generation of environmental champions," said ESF President Joanie Mahoney. "We wish all of them the best of luck in the final round."


This year's finalists are:
Eden Todd Gardner, Best Science Narrative
Gardner is an environmental studies major, Mighty Oaks Student Association (MOSA) vice president, and Syracuse University Student Association assembly member. His entry Create change on your campus with bees, trees, and the human spirit is a podcast about finding and cultivating a passion for environmental activism on a given school's campus using ESF's commitment to increase biodiversity on campus through pollinator gardens and other initiatives.
Eva Sideris, Most Compelling Character
Sideris is an environmental studies major, Planet Forward correspondent, president of the ESF Storytelling Club, and Office of Sustainability intern. Her multimedia presentation Finding water on top of the world | Water issues of New Mexico explored a New Mexican farmer's relationship with water and how he copes with water scarcity in one of the driest places in North America.
Owen Volk, Best Scalable Innovation
Volk is an environmental studies major, a Planet Forward correspondent, and an intern in the Office of Communication and Marketing and the Digital Storytelling Studio. His story Prescription foods: Healthy feeding toward a better future shows how an organic farm and a nonprofit health coalition in Cortland, New York, partnered to implement a system of prescription foods to serve people with low incomes in their community.
The Storyfest awards will be announced at the PlanetForward Summit April 20 at George Washington University where the organization is based.
This year's competition saw more than 140 entries from 30 schools in 20 states and three countries. More than 30 ESF students submitted entries this year – more than any submitted from the other schools.
The ESF students are mentored by Tyler Dorholt and Jason Kohlbrenner in the Digital Storytelling Studio, and Patrice Kohl, assistant professor in the Department of Environmental Studies.