Opportunities
Cultural Landscapes and Historic Preservation
There are many opportunities throughout the year for students to explore the practice of cultural landscape preservation (historic preservation applied to landscapes) through coursework, independent study, assistantships, and internships. Listed below are opportunities offered through the Center for Cultural Landscape Preservation, its partners, and other preservation organizations.
These opportunities can provide the knowledge and experience students need to address historic preservation as part of broader environmental, planning, and design practices. Undertaking site analysis, redesigning a streetscape, preparing an Environmental Assessment, rehabilitating a park with use of public funds, or having a client who desires to maintain historic character and sense of place are just some examples where preservation comes into play.
ESF Courses
Offered in Partnership with the National Park Service Olmsted Center for Landscape Preservation.
LSA 581 - Cultural Landscapes and Historic Preservation - 3 credits, Spring Semester Elective
Note: Class previously titled "Cultural Landscape Preservation"
Tuesdays and Thursdays, 9:30-10:50 via Hybrid instruction
Instructor: John Auwaerte , Co-Director, SUNY ESF Center for Cultural Landscape Preservation Partner, National Park Service Olmsted Center for Landscape Preservation
LSA 581 provides students an introduction to the fundamentals of historic preservation as applied to cultural landscapes and programs of the National Park Service. The course will review preservation philosophy, history, and legislation at the federal, state, and local levels, and explore methods of inventory, analysis, and treatment (design) of cultural landscapes. The course also addresses the interface of natural and cultural resources, and tools for land conservation. Coursework will include weekly readings, lectures, field trips, and in-class discussion.
This course will prepare students for the thematic spring studio in cultural landscape preservation (not offered regularly).
For more information please contact John Auwaerter:
Email: jeauwaer@esf.edu
LSA 670 - Thematic Landscape Design Studio - 6 credits, Spring Semester
Tuesday and Thursdays, 2-6:20 via Hybrid instruction
Eight and one-half hours of studio and one hour of lecture per week. Studio time is devoted to demonstrations, exercises, and projects. Content focuses on different themes, topics, and scales each year, traditionally addressing sub-disciplines in landscape architecture such as urban design, community design and planning, ecological design and restoration and cultural landscape preservation. Additional readings and a supplementary research/writing component
Prerequisite: LSA 423 or permission of instructor. Note: Credit will not be granted for both LSA 470 and LSA 670. Students registered for this course will be charged a non-refundable $150 course fee.
Independent Study and Internship Opportunities
The Center receives requests from non-profits, private owners, and government agencies for assistance with managing their historic landscapes. These requests may offer ESF students with opportunities for paid or unpaid internships, or for independent study in the areas of historical research, historic landscape site analysis, and design and planning. The following are current sites that have contacted the Center for assistance.
To learn more about any of these opportunities, please contact: John Auwaerter at jeauwaer@esf.edu or Rachel Leibowitz at leibowitz@esf.edu
Designing the Parks Internship Program
The Center for Cultural Landscape Preservation has a long-standing history with the National Park Service Olmsted Center for Landscape Preservation. Every year, ESF students partake in the Designing the Park summer internship program, assisting park staff in examining opportunities to improve visitor experiences, while protecting and managing cultural and natural resources. Past opportunities include: Liberty Island, Flight 93 National Memorial and Arlington National Cemetery.
Check out their current opportunities at Designing the Parks Internships
Olmsted Center for Landscape Preservation Internship
The Olmsted Center for Landscape Preservation, part of the National Park Service offers internship positions throughout the year. These paid internships vary in duration and focus but are typically offered to graduating students and young professionals in landscape architecture, horticulture, historic preservation, history, GIS, or related fields, who seek professional experience in cultural landscape preservation.
Check out their current opportunities at The Olmsted Center for Landscape Preservation
Center for Cultural Landscape Preservation Summer Internship
The CCLP offers students summer internship positions working alongside the National Parks Service's Olmsted Center for Landscape Preservation on various projects. Position and application instructions are circulated through the department email during the spring semester.
ESF Research Assistantship
Each year the Center for Cultural Landscape Preservation offers positions to work on funded research projects primarily through the National Parks Service. This is a year long assistantship for 10 hours per week and covers half of the student's tuition. Projects vary year to year. Applications for these assistantships are circulated the semester prior through the Landscape Architecture department's assistantship opportunities.
Local Areas of Focus
Oakwood Cemetery - Syracuse, NY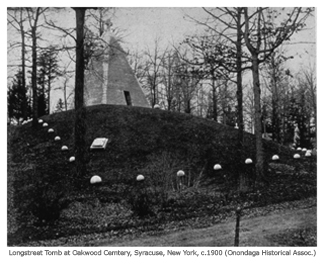 Oakwood Cemetery, a 160-acre landmark was n 1859. It serves as a prime example of the mid-nineteenth century Rural Cemetery Movement. Oakwood is listed on the national register of historic places and is known as Syracuse's first public park, neighboring SUNY ESF's campus. There are many organizations and people working to support this time-less landscape, and you could too! One opportunity for independent study or internship could be connecting Oakwood into the City's Park Masterplan. The opportunities however, are endless.
Stone Quarry Hill Art Park - Cazenovia, NY
Stone Quarry Hill Art Park, with 104-acres of conserved land and over four miles of trails overlooks the breathtaking rural landscape of Cazenovia and Madison County. Inspired by the relationship between art and nature, the Art park provides a unique environment for the showcasing of art by emerging and established artists. Its mission is to educate and engage the public through exhibitions, collections, interpretation, and community outreach programs in the arts. Independent study or internship opportunities could contribute to the production of a Cultural Landscape Report, a document that can help preserve, maintain, and envision the Art Park for the future.
Barnes Mansion - Syracuse, NY
The Barnes Mansion, in Syracuse, NY was originally built in 1853 by George and Rebecca Barnes, ardent abolitionists. The Mansion is recognized by the National Park Service as an Underground Railroad Network to Freedom site and it is listed on the National Register of Historic Places. Independent study or internship opportunities for the Barnes Mansion could include preliminary research reviewing available historic information and a survey of the status of the grounds.