SHARE:
Green Infrastructure Symposium Accepting Abstracts
Conference scheduled for Nov. 16, 17 in Syracuse

10/5/2011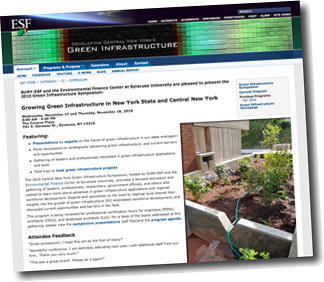 The Central New York Green Infrastructure Symposium, hosted by the SUNY College of Environmental Science and Forestry (ESF) and the Environmental Finance Center at Syracuse University (EFC), is accepting abstracts for presentation at the November event.
This conference, slated for Nov. 16 and 17 in Syracuse, will provide a focused discussion about advances in green infrastructure applications and regional workforce development. Experts and specialists from the local to the regional level will share their insights into the growth of green infrastructure (GI) and related workforce development, and discuss current opportunities and barriers in the field.
Abstracts will be accepted for oral presentations to be held Nov.17. Topics can include monitoring and maintenance, thoughtful design and construction, benefits and challenges to GI, porous product efficacy, effects on groundwater, health effects,plant and product selections, human and behavioral dimensions, financial feasibility, municipal water system implications, climate change mitigation, integrating GI into existing communities, GI and smart growth, historic preservation, economic development and community engagement.
Presentations will be allotted 20 minutes followed by five minutes for questions. Presentations will be bundled with complementary content into the same session to provide for better discussion. The one-page submission should include title, author(s), contact information, affiliation and abstract and should be emailed to Khris Dodson at kdodson@syracusecoe.org.
Please call Dodson with any questions or further information at 315-443-8818.
Abstracts are welcome any time but no later than 5 p.m., Friday, Oct.15. A confirmation email will be sent acknowledging receipt of the abstract.
The symposium, called Growing Green Infrastructure in New York State: 
Digging in and Getting Dirty, will be held 8 a.m. to 4:30 p.m. Nov. 16 and 17 at the Sheraton Syracuse University Hotel and Conference Center, 801 University Ave., Syracuse.
For more information, visit www.esf.edu/outreach/gi/symposium/.
Recent ESF News
News Archives
Communications & Marketing
SUNY-ESF
122 Bray Hall
1 Forestry Drive
Syracuse, NY 13210
315-470-6644