SHARE:
Sustainable Enterprise Graduate Study Melds Business, Environment
Program focuses on sustainable strategies for organizations

10/28/2011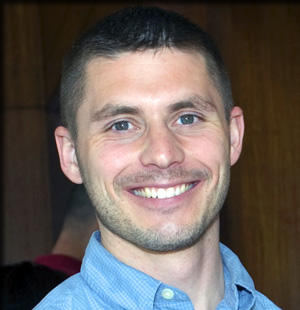 As a graduate student in a Master of Professional Studies program at SUNY-ESF, Adam Maurer enrolled in a sustainable enterprise program at the suggestion of a professor who thought it would be a good fit for Maurer's interests.
Two years later, having earned a certificate of advanced study in sustainable enterprise (CASSE), Maurer has had an internship, a part-time job and now full-time employment in his field, all as a result of connections he made through the certificate program.
"It introduced me to some business concepts but it was also a great networking tool," said Maurer, now a project manager at the Finger Lakes Institute at Hobart and William Smith Colleges. "That's where I met my current boss who also gave me summer employment."
The CASSE program is offered to ESF and Syracuse University through the Sustainable Enterprise Partnership (SEP). The goal is to provide students with the knowledge needed to address the economic, environmental, technical and social challenges facing enterprises seeking to achieve sustainable operations and practices.
The certificate was developed to engage graduate students from a wide range of academic backgrounds in a trans-disciplinary program focused on sustainable strategies for organizations. The curriculum integrates business, science, engineering and policy instruction with practical knowledge in sustainability. It is delivered by faculty and researchers from ESF, the Whitman School of Management at SU, the L.C. Smith College of Engineering and Computer Science at SU and the Syracuse Center of Excellence in Environmental and Energy Systems (CoE), the four curricular partners of the SEP.
Maurer decided to pursue a master's degree after several years in the home-construction field. After enrolling at ESF and investigating the certificate program at the suggestion of his major professor, Dr. Richard Smardon, Maurer got an internship at the CoE in Environmental and Energy Innovations. There he did an assessment of the state of deconstruction practices in the Syracuse area and made recommendations about how to make it a more viable option for contractors.
He continued working with the CoE part time for a year after his internship. His previous CoE supervisor, Lisa Cleckner, became the director of the Finger Lakes Institute and recommended Maurer to her new colleagues. Maurer began his work at the Finger Lakes Institute in September 2011 and is now developing an undergraduate certificate program in sustainable community development.
"The program gave me access to the right people who could help me in my career," he said.
Recent ESF News
News Archives
Communications & Marketing
SUNY-ESF
122 Bray Hall
1 Forestry Drive
Syracuse, NY 13210
315-470-6644