SHARE:
Soccer Teams Capture Barkeater Cups
Inaugural competition sees Mighty Oaks top Paul Smith's

11/1/2011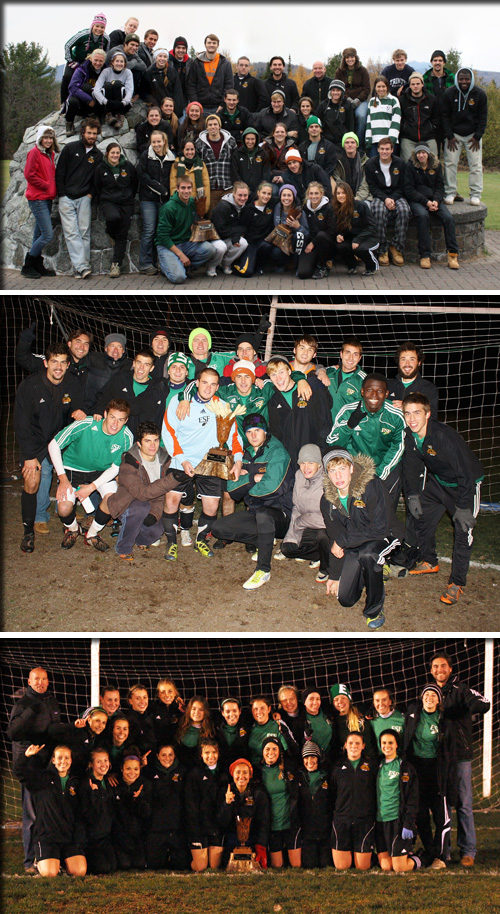 The men's and women's Mighty Oaks soccer teams finished their seasons Oct. 28 with victories over Paul Smith's College in the inaugural Barkeater Cup competition.
Playing at Paul Smith's campus in the Adirondacks on a clear, chilly night, the women won 5-0 while the men took their game to penalty kicks after double overtime before emerging with a victory.
Trophies made by Syracuse sculptor Ron Derutee and Saranac Lake artist Dan Burke were presented to the teams by Paul Smith's College President John Mills. The trophies will be housed at ESF until the second annual completion, planned for 2012.
"It was a tremendous evening for ESF soccer winning both games and
trophies," said Dan Ramin, who coaches both Mighty Oaks teams. "Paul Smith's was a great host and competitor. We look forward to future Barkeater Cup games."
The women began the competition with a great first half, controlling most of the possession. Junior Kelsey Taylor scored a goal, assisted by junior Brooke Harris, and junior Drew Gamils also scored before the half ended. The Mighty Oaks got stronger in the second half, with another goal by Taylor and additional goals by senior Kaley Donovan and freshman Bridget Cuddihy. Assists in the second half came from Cuddihy, senior Althea Spencer and freshman Ashley Miller.
The Mighty Oaks women ended their season with an 8-4 record.
The men's game was an even, fast-paced physical battle. The Bobcats went ahead with an early second-half goal. Not until the two-minute mark in regulation did ESF tie it up with a tremendous set-piece strike by sophomore Ryan Graig.
The game remained scoreless through double overtime before it was decided by penalty kicks. Senior goalkeeper Eamon Case finished his ESF soccer career in spectacular fashion stopping the first two Paul Smith's penalty kicks. Mighty Oaks sophomores Ryan Graig and Pat Alcott and freshman Dillon Buchberg scored PK goals to win as Paul Smith's missed its third attempt.
The men finished their season with a record of 6-2-2.
Both ESF teams wrapped up their trip with an overnight at ESF's
Adirondack Ecological Center. The players pitched in on some service projects the following day.
"Despite the cold, I am glad we ended our season on a hot note bringing home the trophies and giving back to the campus helping out up here in the beautiful Adirondacks," said freshman Ashley Miller.
Recent ESF News
News Archives
Communications & Marketing
SUNY-ESF
122 Bray Hall
1 Forestry Drive
Syracuse, NY 13210
315-470-6644