SHARE:
Men's Basketball Team Completes First Season
Eight seniors honored for contributions to team

2/21/2012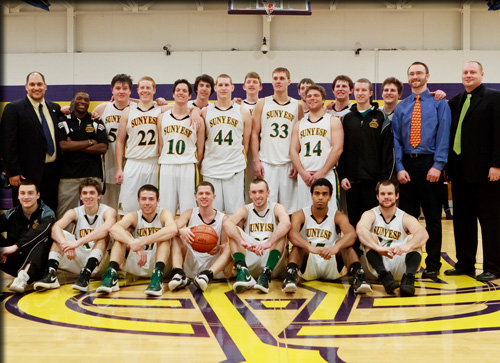 The Mighty Oaks men's basketball club team wrapped up its season Feb. 18 at Christian Brothers Academy against the visiting SUNY Cortland club team.
Before the contest, the Mighty Oaks paid tribute to their eight graduating seniors: Tim Hornstein, Derrick Knudsen, Aaron Wirth, Mike Cook, Mark Wyns, Chris Powers, Justin Canfield and student assistant coach Doug Kabat for their contributions to the program.


The Mighty Oaks opened the first half with a couple of early baskets by Cook and Knudsen as ESF took an early lead. The Cortland club soon figured out the Oaks' zone defense, however, and finished the half with a steal in the final eight seconds to go into halftime with a 34-23 lead.

 ESF battled back in the second half, as has been the team's practice in the last four games, to cut the Cortland lead to 1 point with just over three minutes to play. The Mighty Oaks used an aggressive full court press, forcing Cortland to commit six turnovers in two minutes. A major scoring contribution came from Hornstein, a forward who had four three-point buckets.
Cortland ultimately sealed the victory from the free throw line and took home the win, 75-65.


The Mighty Oaks were again led by Knudsen, a point guard, who finished his career with a game high 19 points and his first double-double by also collecting 10 assists.
Recent ESF News
News Archives
Communications & Marketing
SUNY-ESF
122 Bray Hall
1 Forestry Drive
Syracuse, NY 13210
315-470-6644